Ciao Amici,
I'm betting that most of you reading this like to cook now and again. We do too. And right now, after lugging it around Europe for the last 4 weeks, we're using a five-liter tin of olive oil courtesy of our friend Ettore at La Salceta. He "snuck" it into our car on the way out after we visited a few weeks ago.
Last night (it's finally out of our car) we used it with fresh tomatoes with some good salt (and, ok, a few pieces of bacon) and just couldn't stop talking about it. Really good Tuscan Extra Virgin (organic) Olive Oil simply can't be beaten, and when we find a food product like this we totally nerd-out over it.
Can you imagine an oil with the weight of melted butter, a whiff of fruitiness, and a sweet herbaceousness.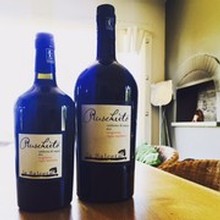 So this morning we had a quick chat together and Ettore agreed to ship some bottles to the Road Cru faithful. Our first food product. YAY! Ettore makes only about 1000 bottles a year, and we're about to land 60 of 'em
At our very core, however, we are wine sellers. So here's the idea: I want to make this a sort of "kitchen stocker" of a few of Ettore's wines, plus some olive oil to tag along. And as for the wine, I'm going to surprise you even further by including a) his remarkable, and I mean really remarkable Rosato from 2014 (!) and b) a decade old Chianti Riserva from 2006. (!!)
There are two ways to get some:
1 bottle Il Poggiolo Extra Virgin Olive Oil (500ml)

1 bottle Rosato 2014

1 bottle Ruschieto Chianti Riserva 2006

$50
1 bottle Il Poggiolo Extra Virgin Olive Oil (500ml)

2 bottles Rosato 2014

3 bottles Ruschieto Chianti Riserva 2006

$99
Okay, so let's talk about these wines a little bit. First, we drank several bottles of Rosato over a few days and kept coming back to it wondering, "What the hell? How can 3-year-old pink wine still be sooooo good?" I think the answer is a combination of Ettore having used fresh, lively, organic Cabernet Franc, and also making the wine in a way that acidity is its strength. It does NOT sport the sort of watermelon sorbet flavors that last for 3 months then peter out into a pale, oxidized mess.
And the Chianti Riserva? Well, what can be said? This wine shows some nice aging now, with a mature color, but is still brimming with Sangiovese fruit--cranberry, figs, dates--and sports a fine dusty tannin. Fully and regularly priced at $18 it's a steal. Mixed into one of the above "stockers"--it just can't be beat.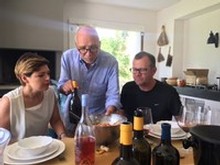 I'm really delighted to offer these wines and olive oil to you. Ettore is one of Road Cru's "go to" guys. He's a renaissance man that can make a great gazpacho, a panzanella salad (pictured, served by Ettore with a requisite description), or a mean Vitello di Tonno. I've visited with him three times now and his wines are like him--slowly revealed, quietly wonderful, and impossible to forget.
I hope you'll take advantage by replying to this email with "Three Pack" or "Six Pack"--or by clicking one of the links above to order online and read more. I expect the goods around mid-October, a perfect time to enjoy the Rosato with a takeout pizza, drizzle some oil onto fall vegetables, or decant a perfectly aged Chianti with a hearty stew or some grilled meat.
Pronto!
Dan