Hi,
I can't get enough of the Valtellina. We visited three times in 2018, and I'm convinced now that we're working with the top guy, a young standout named Marco Triacca. And during our most recent visit, with a small group of Cru friends and customers along, we hit paydirt. Here's how it went...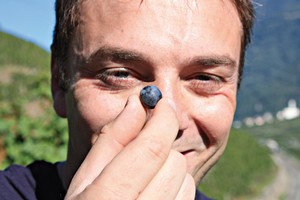 Over the summer I contacted Marco and explained that I'd like to bring 10 people for a visit during harvest, and could he carve out a few hours for us. There was no hesitation. I'll plan the whole thing, he said. And please, plan to stay for a few days.
Ahem, a few days?
Marco's family is Swiss, and he was raised just across the Italian border in the Val Poschiavo, one of the most glorious and stunning valleys you will ever behold. I expected that he would organize a precise visit, but the itinerary that finally awaited us when we arrived truly floored us.
We had an hour by hour plan that covered a 48-hour window--the rooms had been arranged, the dinners, the menus, the particular wines with each meal, the transportation, visits with other businesses in the area (a pasta maker, and the guy that grows the herbs for Ricola)--the whole show. It was pretty humbling that this guy would put so much effort into our plan.
But we graciously dove in and got busy.
The eating/drinking schedule went like this: First dinner--new vintages, Second dinner--old vintages, last lunch--forthcoming vintages. Perfect, except for one thing. Drinking older vintages is awesome, a special experience that is often reserved for visiting in person, getting familiar with a winemaker, and never to be repeated again. One can't usually buy them anymore.
So of course, during dinner #2 (with older vintages), I was getting it from left and right when Marco's 2011 La Mossa was served alongside our main course. I knew it was coming..."What's this?!" "WOW, that's good!" "Dan, can we buy some of this?" "Count me in!"
Sorry team, all the older vintages are gone, I explained. I've already asked. These are for reference only. (as an aside, this was the one meal for which Marco was absent. Thanks buddy, for letting me take all the heat). Alas, we all dutifully eliminated the four bottles of 2011 we were bestowed, and went to bed happy campers.
Ah, but wait! One more visit with Marco before we departed company was to show off his new winery in Tresenda di Teglio. Pretty basic stuff--a tank room, a barrel room, a press pad, bottling line, and storage room.
All clean, all correct, all good.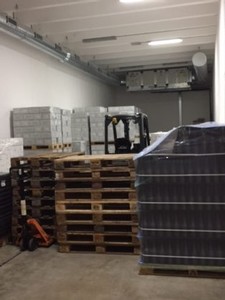 And that's where it finally happened...in the dang storage room, where palettes of bottled wine quietly await guys like me. An excited member of the group that had been poking around in there comes up to me and proclaims, "I found some! There's some of that 2011 there on a palette!"
Marco overhears this and asks if had we liked that wine at dinner the prior night. I dutifully translated and he smiled watching the reactions around the room--blowing kisses, rubbing bellies, and smacking lips. It was the best wine so far on our trip someone commented.
Then he says, "Okay, I will sell you some."
And that is how it came to pass that those 200 bottles, on that nearly buried palette that was spotted that day, are now on their way to Portland. Getting by with a little help from your friends really works sometimes!
La Perla Valtellina Rosso Superiore La Mossa 2011
Regular price at $37, on pre-arrival sale at $27
5% off six-packs, 10% off solid cases
Okay, today took a long time to get to the chase, but sometimes I need to do a little long-form writing to get to my point I guess. With Marco's 2011 La Mossa you're getting a mountain-made, steep-terraced Nebbiolo that really is one of the finest and complete Italian reds I import. Marco allowed the wine a slow and gentle aging for over 3 years in barrel, and now of course an additional 4+ years in the bottle.
The wine sports a fine dusty tannin, but at it's core is alive with fruit--imagine mountain blackberries, currants, blueberries, and maybe whiff of cedar mixed in. I still have palate memory now, 4 months later. You'll love some for drinking right away, or for storing in your own cellar for another 5-10 years if you wish.
I expect this one to arrive around the end of March. To order, please reply here with your request, or click the link above to read more about Marco and order online. I hope you'll add this one to your budding winter stash.
Cheers!
Dan
PS--I'm considering something that I think could be pretty fun and interesting this summer. If stories like the one above get your curated travel juices flowing, then what about this...?
For a week in July I think it would be cool and unique to rent a van and drive maybe 6-7 of you around for a week, all of us acting like importers together. We'd visit 2-3 wineries a day (some I already work with, and some I'd be prospecting), concentrate on one geographic region (reasonably speaking), and finish each day with a great meal at some of my favorite spots I've fallen in love with over the years.
It would be an active, kilometers-sucking "deep dive", and hopefully provide a insiders look into the wine world that you couldn't get from a guidebook or Travelocity.
I'm going to do it anyway, but I'm wondering if anyone would care to join me? My best guess for cost would be about $500/day, and I'll do all the planning for you. For your part, you just need to get here.
Reply here if you're interested, and then I'll write you back with some fleshier details!
--
Dan Beekley
Road Cru--Consumer Direct Wine Imports
www.roadcru.biz