Pre-Arrival OFFER #5 of 2018
A NEW SIGN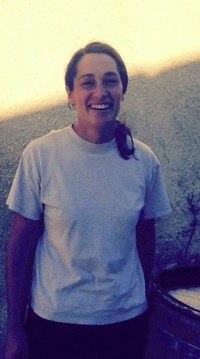 I have a running joke with Audrey Latard. When I first tried to find her about 3 years ago I drove around aimlessly for almost 30 minutes. No markings, no sign, no nothing. Finally, I spotted a palette of empty bottles sitting in a driveway among some construction materials and figured it could be a winery. It turned out I had found the right place.
After exchanging pleasantries I asked her about the inconspicuous nature of her winery and she gave me one of those looks that said, "dude, if I hung a sign, right here near the main road, I wouldn't have any time left to actually grow grapes." And she was right. Her village, Vinsobres, has slowly and surely become a wine tourist desination, along with other southern Rhone Cru villages like Vacqueyras, Gigondas, and Beaumes-de-Venise.
And with just 4.5 hectares to her name, and no employees, Audrey was running Domaine du Tave on a shoestring. Not only could she not afford to put up a sign, she didn't even want to afford one. And besides, where would people do the tasting? On top of an old barrel head? Standing in the cold cellar? That wouldn't work.
But then I asked her about the contstruction materials and the building that seemed to be going up next to the driveway. "That's going to be my house," she explained, "I want to live closer to the wine." It was all becoming clear.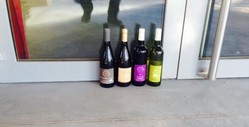 Fast forward to a few weeks ago and I called on Audrey to come by and taste her newest wines. She apologized and said she would be gone on the day I had requested but would be happy to leave sample bottles for me...get ready for it...in the new TASTING ROOM! And then, to really drive the point home, she victoriously told me that she had also hung a sign. "You have to check it out!"
So what did I find? Her nearly completed house, replete with a nice patio and tasting room underneath (with my samples simply lined up against the outside door, photo), and a giant logo painted on a sign right next to it with the words:
LES VINS FEMININ!
I guess the running joke is over.
Domaine du Tave Cotes-du-Rhône Cuvée Creation 2015, Just $12.50 on pre-arrival
5% off on six-packs, 10% off solid cases of 12
This is one of those bottles that you can't keep enough of around. Two or three people can make one disappear quickly. It is so juicy and fresh and fruit-forward, yet due to a wonderful year in 2015 is also uncommonly rich and complete. Dark saturated color with a virtual salad of blackberries, cocoa, currants, and black pepper. It's a shockingly good bottle of Grenache and Syrah for the best price of $11.25.
Want some? To order please reply here with your request: "Sixer", "Solid Box"--you name it. I expect it to arrive along with our other French wines right around April 15th. You can enjoy this one right away and throughout the rest of the year. Drink it young and drink it often.
Cheers!
Dan