PURE VIOGNIER ON PRE-ARRIVAL
This is a Road Cru first. I have never yet offered you a Viognier, let alone a PURE one. Until today.
Wenny Tari wrote me this note last month: "Very good tasting on the Viognier in Marseille this week. Our clients were very fond of it and we were proud! Lovely concentration, good acidity and smooth final mouthfeel. I think your customers will love it."
Right, that's the way I remember it too!
So now I take a step back and deliver a bigly caveat. I really don't like Viognier much. With the exception of the famous Condrieu, the grape can be oily, soapy, soft and flabby. It makes a fine blending element in places like Chateauneuf-du-Pape or Hermitage, but in other regions, its raw beauty is elusive.
Here are the two things that Viognier needs to be interesting: 1) Low yields 2) chalky soils.
At Chateau de Brau, you'l find a check, annnnnd another check.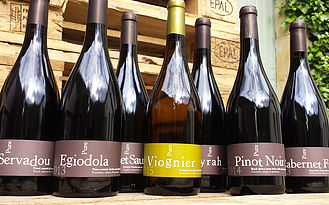 Wenny and Gabriel don't include this in their price list. It disappears fast, especially in France. If not for one memorable dinner with them last fall, I would not have known that it exists. Gabriel nods and says, "Organic, unique, and it comes from us--just a Mom 'n Pop."
I'm pretty sure Gabriel had my number that night. Organic. Unique. Mom 'n Pop. Um, could that be our mission statement? (Because "we don't need no more corporate stinking wine?" doesn't quite roll off the tongue so well.)
Chateau de Brau PURE Viognier 2016, $18
on pre-arrival at $13
Six-packs at just $12
So here we have a wine that is lively, exciting, and wonderful. It's not a high acid wine, yet drunk cold, can be lively and refreshing. The aromatics take the day here, though-- ginger, lychee, and fresh lavender blossoms--lots of cool stuff here.
Wenny cooked up a curry to go along with that Viognier. And it was so good. Late summer/early fall vegetables and lots of spice. This is definitely a wine for summer drinking--to enjoy with garden-fresh tomatoes and peppers when it lands in August.
Sorry gang, not a whole lot to go around on this one. I arm-wrestled the French organic set for this one and basically lost. To order, please reply to this email with your request: "Six", "Case"--whatever your pleasure. Or, click the photos and link above to read more and order online.
Cheers!
Dan