Hi Friends,
Well, I can't imagine many of you tried to get to the store yesterday. And I doubt too many are trying today either. But, I'm (snow) bound and determined to get that sucker open tomorrow by around noon. So those of you ready to brave the elements out there can engage the 'ol 4-wheel drive and head on over. I'll be there!
Today, however, I'm thanking some 1960's scientists for creating the internet. Their hard work means that we can talk today, just not in person. Hooray!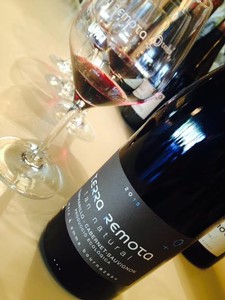 I usually like to kick off the year with a "what have we been up to lately" 6-pack, a mixed bag of stuff from recent arrivals, or a sort of "Tour of Europe". It has been about 18 months now since we began direct importing from their door straight to our door and I think of this 6-pack as a sort of calling card for the kind of wines we've been discovering.
There are some great winemakers in this list--people I've gotten to know really well, and will cotinue to cultivate relationships with over the years. Here they are:
Marc and Emma Bornazeau, French, but running a wonderful winery in northeast Spain called Terra Remota. Their 'Tan Natural' (pictured) is a blend of Cabernet and Tempranillo. For just $19 it is tasting really, really good.
Wenny and Gabriel at Chateau de Brau are my best source in southwest France for perfect everday bistro reds. Their 2014 Cabardes at just $14 is a fascinating blend of Syrah, Grenache, Cabernet, and Merlot. Yum!
I love getting emails from the owner of Mas de l'Abundancia because they say, "Dear Dan, This is Jesus." It always gives me a little giggle if you read it without a Spanish accent! Jesus' Montsant from 2015 is succulent and delicious. A very fine $24 bottle of Grenache, Syrah, and Carignane. Thank you Jesus!
Jean-Pierre Guedon is a winemaker in the delta of the Loire near Nantes. He mostly makes white wine (Muscadet) under his Les Hautes Noelles label, but his one red is just so vibrant, juicy and delicious that I had to add it here. Playfully called 'He-Ho" (to be yelled, not said), it is fruity and forward, made from the local Grolleau and Gamay. $14 greatness.
At the Domaine de Coste Chaude, in the very northern part of the southern Rhone, Marianne Fues runs her winery with Swiss precision. You see, she's actually Swiss. Makes sense. Her welcome mat Cotes-du-Rhone 'Florilege' is proof positive that for $13 one can still find an inexpensive Rhone red that isn't boring, lifeless, and devoid of flavor.
Sisters Nancy and Alex Gontier are the minds behind Domaine de la Camarette, at the base of Mt. Ventoux and not far from Avignon. The word gets mis-used and abused in wine terminology but their 'Terroir' bottling from 2011 is just a lovely, lovely bottle of wine that might have some wondering if its a baby Chateauneuf-du-Pape or something close. $17 for this bottle is a steal.
There you have 'em. Six wines, direct imported with perfect provenance, and all with wonderful people behind them, making juice that is authentic, country, and delicious. Want some?
The CorksCru 6-pack: Just $84
(regularly priced at $101)
To order, please simply reply to this email and I'll make the magic happen. Or, click the link above to order on-line. The wines are in house and ready to go as soon as I get in their and shovel it out tomorrow, Friday the 13th (!) at around Noon.
Stay warm,
Dan