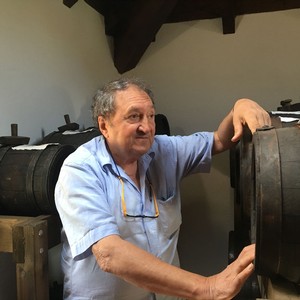 No, it's not Merlot.
But something about this wine reminds me of that oft-maligned grape. I think it's the plummy plumpness of it. And where the similarity to Merlot leaves off, the beauty of Malbo Gentile picks up--in further complexity, riper tannins, and more stuffing.
Speaking of stuffing, I think this one will be ready for Thanksgiving!
Am I nuts to offer up a Malbo Gentile? Straight from Emilia-Romagna, in the foothills of the Appennines near Bologna, this stuff is the real deal. Maybe 1 in 10,000 wine drinkers has ever even heard of it. So what? If it tastes amazing (and it does) what's the difference?
Now about the guy in the phot to your right. He's another good reason to grab some of this dark-fruited, powerful stuff. This man, Boni Luigi, has been carefully guarding this wicked grape variety for about 500 years, since the Marchese di Frescobaldi decreed that it should be on her royal table every night. That was in the 16th century. So why wouldn't we want it today?
Wines like this are what really keep me going. Farmstead. Unknown. True deals. Special stuff that won't break the bank. Bottles that you'll open for friends and you'll simply say, "It's like Merlot on steroids. Only better. Want another glass?"
Terre d'Este by Boni Luigi, Malbotto Malbo Gentile 2013
on pre-arrival just $13
6-packs at 5% further off. Solid cases at 10% further off.
I told Boni when we saw him over the summer that he needed to come to Portland sometime so he could tell stories to our customers, eat out, and maybe taste some good salmon. He demurred and said, "I think you should bring people here. We can give them tortellini!"
I like this wine immensely. So much so, that I bought Boni's last remaining 25 cases so everyone can make this an Italian "go to" wine over the winter. And I hope you do!
To order please simply reply to this email, or click the link or Boni's handsome photo to read more and order online. I expect the wine to arrive, fingers crossed, just before Thanksgiving.
Ciao!
Dan