ALL NATURAL, ORGANIC, LOIRE VALLEY ENGLISH BREAKFAST
Bonjour Cru,
Toby Bainbridge, a Brit, and his American bride, Julie, live in a village of about 120 inhabitants in the charming Angevin. They are warmth personified. They make their wine in a small machine shed a few kilometers from their house. It is everything a "mom 'n pop" winery should be--simple, unadorned, and natural.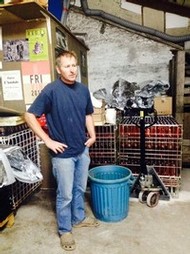 This is the Loire Valley, a scene of castles, churches and natural parks situated along France's longest natural river. Toby makes just three wines from vineyards totaling about 4 hectares. There are typically about 20,000 bottles to go around. But in 2016 that number is more like 10,000. That's pretty scary math for a small farmer.
The culprit was a 'black frost' in April of that year that froze off the buds of thousands of hectares of vines in the middle Loire from Touraine to Anjou. To hear Toby describe it: "It sucked, mate." His entire 2 hectares of Chenin Blanc was destroyed. He literally made about two dozen bottles, enough to remind him that it was important to perservere. I'm sure they'll drink it all at home.
We visited Toby with a group of travelers this past April and he held court with his witty, dry humor, and also a touch of gallantry. Another 'black frost' was forecasted for the next night, and for the second year in a row he was imagining a new loss. Sure enough, it arrived, and again too many vines got whacked (down about 1/3 this year).
But again, he smiles, pours his wine and says, "Hey, let's enjoy what we have. Let's live in the now."
But here's the rub with these ruinous vintages, especially for the garage winemaker. The wines are awesome. Like really, really great. Toby won't build a new winery, or buy some new equipment on his revenues from the 2016 vintage, but he will continue to build his brand, and he will continue to make lots of friends for his attitude and his winemaking. Because what ended up in the bottle was downright delicious.
Toby toils away day after day with an obscure red grape variety called Grolleau, an ugly duckling that is out of favor with most winemakers. But when farmed meticulously, and to miniscule yields, it gives wonderful wines of aromatic intensity, depth, and overall scrumptious-ness.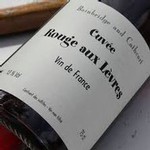 There are two wines, and many of you have gotten familiar with them over the years. Here they are:
Bainbridge & Cathcart Rouge aux Levres 2016--literally translated as "Lipstick". Like all of Toby's wines, this dark red is packaged in a clear glass bottle and closed simply with a crown cap, ready to pop open and slurp down slightly cool. It is meant to drink now, not put away in the cellar. Red fruit salad abound. Regular $20, on pre-arrival at $14.
Bainbridge & Cathcart La Danseuse 2016--The Dancer is Toby's beautiful sparkling rosé, a pale-hued wine with a good persistent foam, a minerally dry taste, and 25.4 oz of pure bubbly enjoyment. It should be your house pink sparkling wine and be happily served to all your holiday guests this winter. Regular $25, on pre-arrival at $18.
Want Some?
I'd like to offer you Toby's wines this way: Any mixed 6-pack for an additional 5% off the pre-arrival price, or any mixed case for an additional 10% off the pre-arrival price.
To order please simply reply to this email with your request: "Three of each", "Split mixed case"--whatever your pleasure. I expect the wines to arrive around mid-August. I hope you'll make Toby's limited selections from 2016 a part of your late summer fare.
Cheers!
Dan