Bonjour Cru,
I know I'm being rhetorical with the subject line, but I think this is one of a handful of precepts among wine lovers, and winemakers, that creates a hardened opinion and an idealogical position. Especially with Oregon as our backyard, I hear things like this a lot:

"I got into the business because Pinot Noir is where it's at for me. There is simply no better expression of land, man, grape, and wine." Or,
"There is no more ethereal wine than Pinot Noir. It's all I drink..."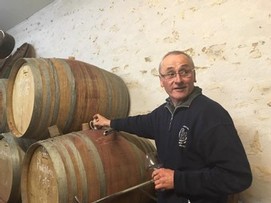 Hmmmm...I've often wondered if Pinot Noir actually wants or deserves all that pressure. I'm not so sure.

Look, I'm a wine dork. I've been lucky to taste and drink lots of wines from lots of places. And the one constant I have discovered after all these years is that I have only been certifiably impressed by one thing:
People.

I've never thought of any wine as "penultimate" or "mind-bending" or even "life changing." Yet I hear other wine dudes and dudettes use these terms quite a lot. I know it makes for exciting marketing fodder, but it would be really easy to change these words around to something more like this:
"I like drinking wines made by winemakers that are thoughtful, wise, enjoy a good laugh, seem to enjoy their lives, and attack every day with energy and joy."
Aligning with those kinds of people, now that really IS special.
Emmanuel Rouquette is one of the people that checks all those boxes. He works a small vineyard, in relative obscurity, on the periphery, with a smile on his face, and makes the wines he wants to drink and share with people. His wines are brimming with life and give great pleasure to drink. A visit together gives one the happies. Plus, he has a dog named Malbec.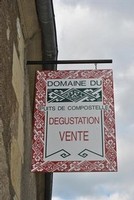 And he also happens to make the most delicious, slurpable, affordable, and virtually unknown red wine in all of France. And it's made from....you guessed it--Pinot Noir.
Domaine du Puits de Compostelle Pinot Noir 2014
You knew this was going to be a Pinot Noir offer right? Well, grail or not, I just want to pull the cork and glug this baby down. Maybe drip a little on the tablecloth, and wipe your lips with your sleeve. There's nothing to be reverent about here. This is a red to own by the six or the case.
And at just $15, it's pretty hard to beat.
Want some for yourself? Please simply reply here with "Sixer", at an additional 5% off, or "Solid Box", for an additional 10% off. Or click the product link above to read more and order online. I expect the wine to arrive around the 10th-15th of December, in plenty of time for your holiday roundup.
Cheers!
Dan
PS--Only a few more offers coming at you this year. You'll see those in the next few weeks then we'll take a break for December and hope to see you in person at the store. Please mark your calendars for Saturday December 9th from Noon-5pm. I hope you'll join us for our annual holiday Sparkling wine extravaganza.