To The Dark Star and the Center of Draco. And Back.
ROAD CRU PRE-ARRIVAL OFFER
Bonjour Cru,
I probably receive more emails from this winemaker than any I other I work with. Emmanuelle and I talk regularly about lots of different things--culture, food, wine, our families, and politics. So last week she sent me an email that read:
Me voilà soulagée… J'ai eu peur ces dernières semaines que tu quittes Trump pour retrouver une Le Pen en France !!!! Mais non, ouf, c'est horreur ne c'est pas produite !
My guess is that you really don't need me to translate this. I'll leave it to you. But know this, a small farmer in the south of France is feeling some relief this week. 'Nuf said.
Then, in true marketing form, she goes on to show me the scores her two best wines received in an important wine magazine known round the world. I won't quote them, because, well, you're here with me, not there with them. But let's just say...they're pretty good. Especially for Languedoc wines.
All of Emmanuelle's wines have an astronomical meaning...
Mas Seren Etamin Blanc 2015, $25, on pre-arrival today for just $17.50--named after the Dragon Star in the constellation Draco, a fantastical beast, this wine combines Roussanne with Grenache Blanc into a wine that will raise your eyebrows for its complexity and richness. Anyone remember this from last year? It was good. Really good. This one tops it. Folks pay lots of scratch for white burgundy and Chateauneuf-du-Pape Blanc. Under $20 for this gorgeous white is a head-scratcher.
Mas Seren Mintaka Rouge 2015, $32, on pre-arrival today for just $21--named for Orion's dark star, and part of that constellation's famous string of pearls, this is Emnanuelle's best red wine and is gaining her quite a reputation in the south of France. Syrah (75) and Grenache (25) explode in the glass and then on the lips with a wonderful arrangement of black and red fruit salad, a crack of the pepper mill, and great length. Hard to believe there's no oak on this wine.
A 6-pack of each would be a smart buy! (the shameless-ness continues...)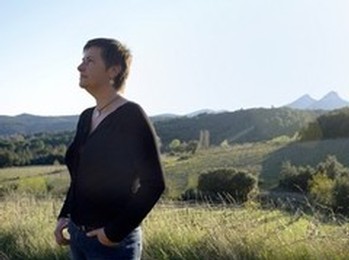 Emmanuelle's little winery has become an important cog in our direct import portfolio. There's a little bit of something on every container we import. We're up to nearly 500 cases together in just two years. Thank YOU!
There's only one place to buy her wines outside of France. Right here. And in two weeks her best white and her best red arrive at our doorstep. But not much, mind you. Just a handful of cases of each, because that's all she makes.
Mas Seren consists of just 6 hectares perched at an altitude of 300 meters near the sleepy town of Monoblet, close to Anduze. A wild site in Cévennes country, it is protected by scrublands and oak forests. The plots, spread over rocky slopes, are made up of red sandstone, shale, grey marl, or even limestone fragments. What a puzzle! Grapes benefit markedly from the contrast in the day and night temperatures during the summer. Thus, the cool nights of Cévennes allow the grapes to ripen slowly while protecting freshness and acidity, which provides its wines with aromatic intensity, finesse and fullness.
The wines will be here around June 15th. This is a "roll your own" offer. You can simply reply with your request: "Six of each", "Three and Three", "Two and One"--you get the idea. Or, click the links above to read more about the wines and order on-line.
En Marche!
Dan