Hi //FirstName//,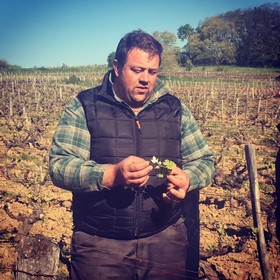 It was just about a year ago that we stopped to see Mathieu Cosme in his tiny village of Noizay. He was in a bad mood having been up all night burning straw in his vineyard (in order to laydown a fog layer), and stressed because for the second straight year a late-Spring frost had threatened the vintage.
And sure enough he ended up being down about 50%, after being down 70% in 2016. And all because of one night of temps at about 28 degrees--two years in a row, on the exact same date!
The culprit was a "black frost", essentially a thick morning frost that encases the tender buds. But as you can see in the photo, those cold spring mornings always start with clear blue skies and a sun that sears right through those ice encased buds and literally burns them off. Mathieu can be seen holding one there.
He later threw it to the ground. Disgusted. Another year forthcoming with a lot of hard work, and half a production to show for it. Eight hours of freezing temperature determined the output for the whole year.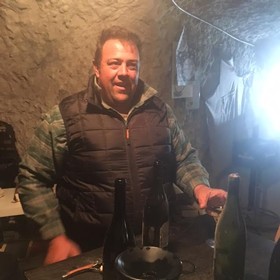 So when Elizabeth and I returned to see him around Thanksgiving he was officially sold out of everything from previous years, but his mood had improved becasuse the wine that he was ultimately able to make from the 2017 vintage was outstanding. There wouldn't be much to go around, but what there was would be classic. See, smiling in the next photo.
Vouvray Les Promenards is a wine that many of you have purchased from me over the last few years and might know well by now. For me it is one of our best arrivals of any year, from anywhere. And this new vintage of Les Promenards picks up and continues where the others have left off.
This one, for Mathiu at least, might be a little more satisfying. I think it will bring a smile to your face too.
Domaine de Beaumont, Mathieu Cosme, Vouvray Promenards 2017, $25
On pre-arrival, just $19
less 5% on 6-packs, and less 10% on solid cases
Mathieu works in the tiny hamlet of Noizay, not far from Tours. He's an affable man-bear, listens toughtfully to questions, then answers in a sort of franglais, wanting always to practice his english. A consummate marketer--taking his time, being attentive.
The pace is slow here in Vouvray, and such is the way Mathieu's wines unfold--slowly, surely, and with patience. Prior to meeting him two years ago Mathieu had never even exported his wines to the US, and hardly elsewhere in Europe. I'm fortunate that he works with us.
This Vouvray is dry, but honeyed-rich, oozing with complexity and redolent of white flowers, lime juice, and green apples. And, it's a classic wine from a classic vintage. Sure, drink some right away. But the reward for cellaring some over the coming decade, if you can do that sort of thing, will be immense. Drinking aged Vouvray is a pure pleasure.
I expect the wine around the end of June. To order, please simply reply to this email with your request: "Three", "Six", "Solid case"...something like that. Or, click the link or photo above to read more and order online.
Cheers!
Dan
PS--stay tuned for an update email later this week. Our container on the NSK Meteor has finally landed in Oakland and should be here soon! Pickup and readiness details forthcoming...