A REDUX of one of our MOST POPULAR whites
ON PRE-ARRIVAL SALE NOW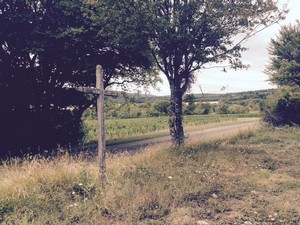 I thought this wine was gone. Long gone. But a fortuitous visit with Emmanuel Rouquette a few weeks ago revealed the availability of more. For some of you this will be immediately recognizable, and if not, you'll make friends with this bottle very quickly, especially over the summer.
This is a wine of threes. It is uniquely and equally blended among three grape varieties--Pinot Gris, Sauvignon Blanc, and Chardonnay. And it harkens three different regions of France--Burgundy, the Loire, and Alsace. It is so unique that Emmanuel Rouquette, its maker, playfully calls it "Blanc de Blancs"--a sparkling wine term--even though it is good o'l still dry white wine.
Puits de Compostelle Blanc (de Blancs) 2015
On pre-arrival at just $13
5% further off on 6-packs, 10% off further on solid cases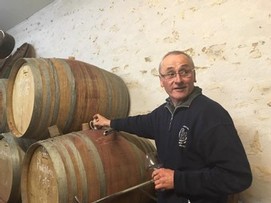 Emmanuel is the de facto king of Burgundy's tiniest appellation, the Charité-sur-Loire. There are exactly 7 independent wineries here, and every one of them looks to him for support and guidance. With only 4 hectares of his own vines (from a total of 60 for the whole appellation), Emmanuel has a real gem on his hands. The Loire river is only 20km away, Chablis is an hour north, and Beaune a bit more to the east. I like to think of his vines as a vortex of sorts, nearly in the middle of France, and nearly in the middle of its most famous vineyards.
Have you ever stood in one of those places? Where you look around and realize you're somewhere special, and think "this just feels right?" This is one of those places.
Puits Compostelle is a country winery through and through, but it also turns out beautifully polished white wine at its very best. Each of the varieties shine. The Sauvignon gives a citrusy and lemongrass aroma, the Pinot Gris a soupçon of apple and pear, and the Chardonnay a dose of bright acidity and a slightly waxy texture. It's one of those white wines that if the varieties were bottled separately might be selling for $20-25/bottle. But put them all together? Half that.
The art of winemaking right? When the whole is better and cheaper than the sum of its parts...
Ready, set, go. Our order is prepared and ready to sail. I expect it to arrive in about 6 weeks, sometime just after July 4th. To order please reply to this email with your request: "Three", "Sixer", "Solid Case"--no limit. I think you'll enjoy this gorgeous white throughout the summer.
Cheers!
Dan