A CATALAN WHITE AND PINK 'DEUCE'
PRE-ARRIVAL OFFER
Let's call this "short and sweet" Saturday. The sun's brief appearance yesterday got me thinking about summery whites and rosé. Coupled with an email from Marc Bournazeau to say my new order from Terra Remota would be ready to ship next week, I thought a weekend morning email would be in order.
I'll be brief.
Terra Remota makes the best white and rosé in Catalonia.
There, I did it.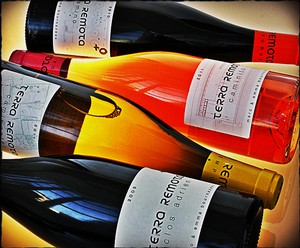 Our first three shipments from this remarkable winery in northeast Spain were all red, all the time. Their pinks and whites get scooped up immediately by restaurants in Roses, Girona, Figueres, and Barcelona, and I kept missing the boat. And with only a few thousand bottles of each wine to go around it's no wonder that when these wines are bottled in March, they're usually gone by mid-April.
But this year, I got there at the right time...and I got us some.
Caminante 2016 is a unique blend of Grenache Blanc, Chardonnay and Chenin Blanc grown together on Terra Remota's unique granite soils and then aged for just a few months in older barrels before bottling. The proximity to the sea gives a sort of "salty air" quality to the wine. It ends up with the richness and viscosity of good white burgundy, and the refreshing-ness of a Loire white. Truly awesome stuff. ($28)
Caminito 2016 is the winery house rosé, a wonderful and sunny typical blend of Grenache and Syrah that would parry and win with the best of Provencal pink wines. In fact, I might call this my favorite rosé in our book. A brilliant rosy color is followed by lychee, white pepper, and cut flowers. It has it all. ($23)
This one is a "DEUCE" offer. I have been allocated a whopping 60 bottles of each wine and I want to spread the wealth. So how about one bottle of each for you, to make:
a DEUCE for $39
Or, if you think a bottle of each might not be adequate:
A 6-pack, 3 bottles of each, for just $105
Two ways to order: Simply reply to this email with your request: "Deuce" or "Sixer" and I'll make the magic happen. Or, click on the link or photo above to read more about Terra Remota and order online.
This is not an April Fools joke, and it's really happening. I expect the wine to arrive around June 1st, just in time for summer barbecue and trips to the beach.
Bon Weekend!
Dan