Quick note: The store will be closed for a three-day weekend starting tomorrow, Saturday 10/15-Monday 10/17, for an off-site event. But, we're here today til after 6pm. Please swing by to taste some wine and pickup some goodies. Maybe this....
Hiya!
Did you know that 1 in 3 people living in and around Bordeaux work directly in the wine business? That's out of a metropolis of 3 milllion! In other words, there's a LOT of Bordeaux wine in the market, much of it nameless, faceless, boring, and uninteresting.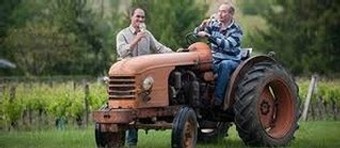 It could be that we don't sell or work with Bordeaux as much as we could. Sifting through the monolithic mountain of choices is daunting. And then, one can't even be sure that what they're getting comes from an actual estate winery. Lots of bottles are 'designed' by cooperatives and marketers with all sense of place long gone.
But, through the power of direct importing we've been able to hand select a few wines, right from the winery's front door, that quite frankly, are pretty exciting. I've wrapped them into a tidy little 3-pack for a really sharp price, (like, really sharp) so you can try them out. Here they are:
Chateau Lague Fronsac 2012, $25--Lague operates under the stewardship of Arnaud Roux-Oulie, and has a unique history. It was part of an estate established in 1746 by Louis-François Duplessis, Duke de Richelieu, nephew of Cardinal Richelieu. He was the Marshal of France and a great lover of the wines of Fronsac. He held sumptuous festivities at this remarkable chateau situated on one of the highest hilltops in the region. Panoramic views were enjoyed and the vineyards sloped down, covering the hillsides. Doesn't that sound so regal?

Lague 2012 is predominately Merlot with just about 5% Cabernet Franc added for a bit of structure. It is rich, full, and dense from aging in barrel for a few years. We think the wine has enough "stuffing" to drink now but cellar easily until after 2020.
Domaine Claouset Bordeaux Rouge 2014, $14--The Domaine de Claouset Rouge from 2014 is shockingly delicious--a veritable salad bowl of red fruits. This is one of those bottles I would put someone's hands that wrongly believes all Merlot sucks. Why? Because it proves in fact, that um, all Merlot doesn NOT indeed suck. In fact, from properly farmed vines, and splish-splashed with some structured Cabernet Franc, it makes for an uncommonly rich and complex wine.
Chateau Lapinesse 'Cuvée Prestige' Graves Rouge 2011, $34--The Chateau Lapinesse is the brainchild of twin brothers David and Laurent Siozard (picture above). They acquired the domaine in 2006 and have slowly and surely invigorated it with new life and careful attention. Their 4 hectares (two red and two white) are situated among the finest vineyards of Barsac/Sauternes and their neighbors often command 2-3x the price of their own. This is AOC Graves Rouge of uncommon power, structure, and richness. This 2011 was a showstopper--concentrated, filled with puissance, and finely tuned. Wow.
Please grab a 3-pack, one bottle of each for just: $54 (that's better than 20% off the retail price)
or better
A mixed 6-pack, two bottles of each for: $99 (that's only $16.50 per bottle!)
To order, please simply reply to this email with your request and I'll make the magic happen. The wines are available now and ready to pickup right away. I hope to see you soon.
Cheers!
Jane