Bonjour Cru,
Last Spring I did something I've never done before as an importer. I bought wine at auction.
But to be clear, this wasn't one of those elite type affairs, under the palm trees and with a big name band attraction that raises $7 million by selling magnum verticals of Screeching Raven. This was a little more country, a little more casual of an affair. But the cause was just as important. And, I had some help.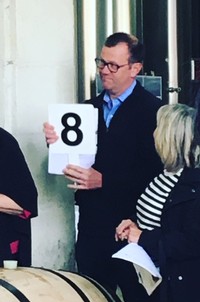 So on a drizzly April Sunday morning, 18 American food and wine lovers loaded onto a bus and drove from Angers into the heart of the Haut-Poitou. There, at the incredible farm and winery of Ampelidae, we tasted through 12 different barrels of Sauvignon Blanc—sniffing, swirling, spitting (and drinking) our way toward what we thought were the best. Our group colluded together and we raised our paddle on three of the lots.
And we got 'em.
In the end, Road Cru and its guests contributed almost 3000 Euros to the cause—the educational improvement of elementary youth around the community of Marigny-Brizay. Among us we committed to 120 bottles each of these crisp, ready-to-hit-the-back-deck Sauvignon Blanc.
Each of the three lots sports an original artwork by one of the local youth. But I'm going to leave the visuals as a surprise for when you finally open the box. Let's just say—they're COOL…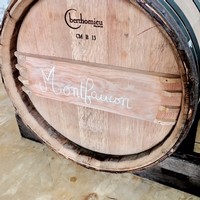 The wines are all delicious. We bought from three different cuvées, and each was bottled separately—La Tour Signy, Monfaucon, and Le Sable. These are vineyard parcels that make up Ampelidae's best wine, called "Le S." The vintage, 2016, provided richness and raciness, just what I love the most, and why we've gone back to Ampelidae year after year. These are some of the Loire's best Sauvignon Blanc made outside of Sancerre. Period.
These bottles aren't available anywhere else commercially. This is as unique as it gets!
So here's the deal: I'd like to offer you a 3-pack, a bottle from each lot, for the nice price of $60. That's just $20/bottle (our donation to the cause embedded) for a trifecta of Ampelidae's best Sauvignon Blanc from 2016. Our group sucked up a lot of it, but there is enough remaining for about 20 three-packs. I hope one will be yours…
To order, please simply reply to this email with your request: "3-pack", "6-pack"--whatever your pleasure. First come, first served and supply is obviously limited. Not only are these delicious wines, but they come with the knowledge that you helped some kids with needs. That's a lot to like.
The wines are in the store and ready to go when we open today at 11.
Cheers!
Dan