'SENSATION'-AL COTES-DU-RHONE VILLAGES AT JUST $10
PRE-ARRIVAL OFFER
Hi Friends,
Today we interrupt our regularly scheduled Italian missive to cross back over the Alps and into the southern Rhône. I received an email from Audrey Latard over the weekend, and she had some good news. Even though her own winter has been interminable, she finally had a new vintage of her terrific Cotes-du-Rhone Villages in the bottle, and ready to go. So, here we are.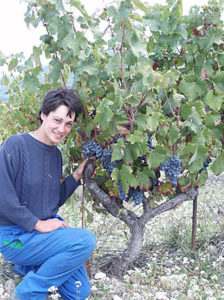 Audrey is young, talented, and ambitious. She works alone, a female winemaker, business owner, and vineyardist. There's nothing fancy at Domaine du Tave--a 1000sf winery, no barrels, all fiberglass and steel tanks, and a tasting bar the size of a small bookshelf. All her remarkable energy is dedicated to her 4 hectares of vines near the Cru village of Vinsobres.
She began her project in 2008 with a loan, and a gutload of determination. The southern Rhône is a dominant landscape of viticulture. There are vines everywhere. There are wineries everywhere. There is a full-time, power-hungry industry that covers nearly 100,000 acres. One in three people living in the Drôme-Provencale work directly or indirectly in the wine industry.
How on earth does one figure out a way to stand out with their own very miniscule operation?
How does one get past simplistic commentary like, "Oooh, that's a cute little place?"
How can one turn a 20,000 bottle production into a living?
MUSCLE. That's how.
There's no way to sugarcoat it. Audrey Latard could be lost at sea, the powerful waves of richer, trendier competing wineries crashing over her at every moment. Yet she carries on. She makes the wines she likes to drink. She farms her vines to low yields. She works hard. Really hard. And slowly and surely over the past 10 years has made her name. How? Because she's honest, forthright, and strong. And her wines are all the better for it.
There's no better story than that.
Domaine du Tave Côtes-du-Rhône Villages 'Sensation' 2014, $15
on pre-arrival, Just $11/bottle
Solid Cases at $120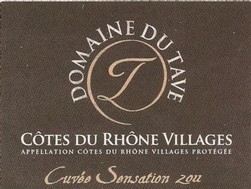 Audrey makes 3 red wines, but I like this one the best. She has some old-vine Mourvedre vines that make up about 30% of the blend. The rest is mostly Grenache with a 10% or so splash of Syrah that acts as a crack of the pepper mill on the salad.
Some of you will recognize the label and hit 'GO' right away. The first time around with the 2011 (label pictured) version of this wine was a great success. I think the '14 picks up right where the other one leaves off. Look for a wine with a nice purple color, red and black fruit salad aromatics, and a nice, rich, warming mouthfeel.
We are Audrey's ONLY US IMPORTER and we get first crack at this wine. Order at will. There's no harm in having a case of really good everyday (and at that price, why not every day?) Rhône red around the house. You'll open this with anything.
To order, please simply reply to this email with your request--no limit. Or, click the link or images above to read more on Audrey and place an order on-line. I expect the wine to arrive around mid-May.
Cheers!
Dan