WHITE BORDEAUX ON PRE-ARRIVAL. BUG FREE.
Good Day Cru,
I hate bugs. And I really hate gigantic swarms of them. When visiting vineyards during harvest time, you'll be greeted with exactly this. Frantic clouds of gnats.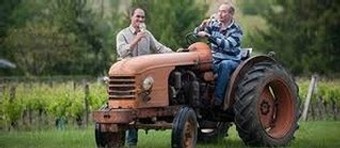 So it was quite reluctantly that I stepped from the air-conditioned cab of David Siozard's truck last September in order to taste his golden-hued Semillon, straight off the vine. As expected, the gnats were in my hair and ears (and ear hair) within 15 seconds. David laughed and said, "they're here for the sugar. It's a good sign!"
ha ha.
Then I watched as David studiously worked his way up and down a few rows, stopping now and then to taste a random grape plucked from a cluster. The gnats didn't seem to follow him, or even bother him, really. He was intensely focused. When we got back into the truck he said, "I need to tell my brother to pick that block. It's ready, and it's going to make a great wine!"
A day later I tasted the freshly pressed juice directly from tank--only hours old. Friends, if you ever get this opportunity, please take it. There's a lot you can tell from slurping fresh grape juice from a plastic measuring cup. I promise you, gleaning an idea of the finished wine is no problem. The flavors are there from day one. It is THE "proof in the pudding" moment of any wine's life.
Today that wine, the Chateau Lapinesse Graves Blanc 2016, is ready to ship.
White Bordeaux is a game of hit and miss. It's easy to taste 25 before finding one like this. And it's unusual too, made purely of Semillon--yielding a wine of honeyed intensity, fresh citrus blossom, and a whiff of salt air. The Siozards make the wine entirely in stainless steel in order to preserve the gorgeous green-gold color and the lovely fresh peach aromas.
Priced regularly at $21.
But yours on pre-arrival for just $14
To order, please simply reply to this email with your request: "Three", "Six", "Solid Case"--whatever your pleasure, or click the link above to read more and order online. I expect the wine to arrive around mid-August, served cold, and ready to enjoy with late summer vegetables on the grill.
Cheers!
Dan