Hiya Cru,
Staying cool?
I wanted a red wine last night, so I refrigerated one. And then drank it. Wine snobbery be damned!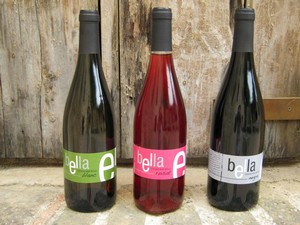 And that got me thinking... of course it's the time of year for white and rosé wines, but it's also a time to think about what's ahead this fall. So today I'm offering you a taste of all three, courtesy of my friend Elisa at Mas Bella, in the heart of the Catalan countryside.
In the tiny village of Masmolets, somewhere in the old rolling hills between Barcelona and Tarragona, we find the hidden Mas Bella. The winery is the brainchild of Elisa Ribés and her brother David, she a well known enologist in the region and he a consulting sommelier to local restaurants. The siblings work approximatley 12 hectares of vines but sell most of their fruit to local coopertivas for turning into Cava. But they keep the best for themselves and turn out only 10,000 bottles of wine each year.
Here's a terrific intro to their work:
Mas Bella Red, White & Rosat Trifecta
regular $48, on sale as a 3-pack for just $42
5% further off on 6-packs, and 10% further off on mixed cases
Bella Blanc 2017 is a brilliant straw-colored white wine crafted from the local Macabeo and Parellada. Made entirely without oak and built to be refreshing but also rich and complex. A very unique and delicious white wine. I love the little salty freshness on the lips. ($17)

Bella Rosat 2017 is pure Tempranillo (locally called Ull de Lebre), a strange grape for a rosat. But not here. I think it might have something to do with the proximity to the sea. You'll notice right away the darker color, from a bit of extended skin contact, which often means sweet, but this wine is anything but. It is nice and creamy and rich, but fragrant and dry and actually quite lively with freshness and acidity. One can imagine slurping this stuff on a warm beach day! ($15)
Bella Negre 2016 comes from a sunny and warm part of Mediterranean Spain but its proximity to the sea and a constant wind effect from the Pyrenees actually keep the vines quite temperate and cool unlike in neighboring Montsant and Priorat. This youthful red is high-toned, dark cherry red, and drives like a suped up muscle car. It is a classy, finely tuned, and complex Tempranillo that slowly revealed itself over a long lunch with Elisa a few years ago. It evolved into a truly stunning glass of wine--persistently aromatic, layered, and just kept giving and giving. ($16)
Want a 3-pack or more for yourself (to drink cold or otherwise as you see fit)? To order, please simply reply here with your request: "3pk", "Sixer", "Mixed Case"--you name it. If you can make it by today, the wines are IN and ready to roll. Otherwise, see you next week Wed-Sat between 11-6.
Or, you can click the link or photo above to read about a meal I had with Elisa when we first met, and then order on-line. It was a classic!
Have a great weekend!
Cheers,
Dan