IS THIS THE GRAND CRU CHABLIS OF NORTHERN ITALY?
Ciao!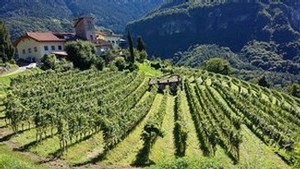 Over the summer our family made a daylong drive through Switzerland on our way to northern Italy. We crossed the border after Davos and entered the region of Südtirol from the west, toward the charming cities of Merano and Bolzano. One takes immediate notice that this is the pear and apple growing capital of western Europe (sorry Normandy). For about 100km there were orchards left and right, growing in the lush verdant valley between the Dolomites. This continues nearly all the way to the city of Trento, another 60km south.
But somewhere along the way one also begins to notice different patches of green further up the hillsides and realizes that they've entered wine country too. This is the Alto Adige, and if I was forced to have to live somewhere else, this might be it.
I don't think Mrs. Cru wants to subsist on all that butter and ham though. However, she did marvel at the wines, this one in particular:
On pre-arrival at $19.50, Six-packs at $18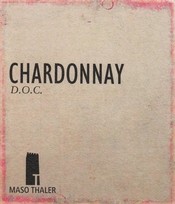 Not because it's our rule, but we don't bring much Chardonnay home that's not called Chablis. First off, lots of other white Burgundy is out of our price range. Secondly, the everyday wines can be hit and miss, and sort of uninteresting. But, we've always been fascinated with high altitude vineyards (this one comes in at 800 meters) and cool climates. This area of northern Italy fits the bill.
We went to visit the Motta brothers a few days after we arrived and enjoyed a little walk around their breathtaking vineyard, then went to lunch. Between a tasting at their winery and then the completion of several bottles over the meal, we were pretty set on knowing we had a gem on our hands.
And later, as we were driving away, Mrs. Cru dropped the bomb. "That Chardonnay was off the charts."
Again, besides Chablis I don't think I've ever heard her utter the words before. In fact, I take my queues from her very subtly. I usually know when she approves and when she dislikes, mostly through body language. To have her actually SAY those words really meant something.
So, I guess I better take them seriously!
This is Chardonnay at its best. The high elevation and cool climate help preserve acidity, yet loads of summer sunshine lend their hand toward richness and ripeness. The Motta's split the fermentation between stainless steel and some large acacia barrels. Then, another 6 months in bottle before release. The resulting wine sports aromatic firepower coupled with refreshing, almost stony, minerality.
And it might be one's imagination but the sweet aromas of ripe apples and pears aren't far away either.
To order, please reply to this email with your request. There were just 2000 bottles produced and we're receiving 84 around November 1st. You could enjoy some right away, but I wouldn't hesitate to cellar some for another 5 years either. Or, you can click the images or link above to read more and order online.
Cheers!
Dan
PS--This really is the last white wine offer of the year. That's the plan anyway... :)