Let's wrap 2016 up right, shall we? Today, we give you...

The CorksCru 6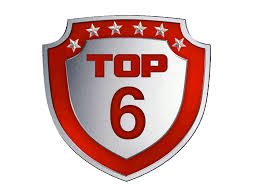 A few years ago we began the tradition of taking an honest and interested look at not just our top selling wines of the year, but our personal favorites too. We're talking now about the bottles that really got our juices flowing. You know, sometimes you smell and taste a wine that you just know "has" it. Everything clicks and before you know it there's a few ounces left in the bottle and you say, "dang, what just happened?"

All we can ask for is that each year is more interesting than not. And 2016 fits the bill.
We continue to have a vested interest in the farmers and winemakers we meet, the wines they make, and the stories they have to tell. As of this writing we're working directly with 40 wineries in France, Spain, and Italy. You'll find the Road Cru back label on FIVE of the wines below. That means two things to you--better wines and better prices. A win/win!

And along the way we stayed tried and true to one of our ideals--providing, delicious, affordable, everyday wine that prefers to end up in the recycling bin rather than lost in the cellar. This list drives the point home:
Marigny Neuf Pinot Noir 2014, $15--Fred Brochet's scrumptious Loire Valley Pinot offering that is hard to beat at this price. Is it light and pretty? Yes. But is it simple and candied? Heck NO!
Laguille Merlot Cotes-de-Gascogne 2015, $12--The answer to the question, "We need a party wine that won't cost much that everyone will love." Done. Guy Vignoli makes this juicy, warm Merlot in southwest France and would love to take you out for Cassoulet if you ever visit!
Gulfi Rossojbleo 2013, $19--A perfect introduction to Gulfi's wines and an even better picture of what's going on in Sicily. Pure Nero d'Avola from limestone rich soil makes an uncommonly complex red wine. Love those rose petals...
Mas Seren Mintaka 2013, $29--Over the last two years Emmanuelle Schoch's wines at Mas Seren have made a real name for themselves here. We purchased almost everything she made of this wine (the best of her lineup) in the early year and frittered the rest away for just this moment. A stunning blend of Syrah (75) and Grenache (25) from the Cevennes mountains in the Gard. Wow.
Terra Remota Camino 2014, $24--A Spanish (Catalan) gem brought to you by French winemakers Marc and Emma Bournazeau. This blend of Grenache/Syrah/Cabernet holds its secret in the soil. Terra Remota's wines are planted on granite, a real oddity in the Emporda, near the Mediterranean in northeast Spain. A superb bottle of red that's ready for any meal.
Mas Bella Negre 2014, $16--A juicy, red-fruited Tempranillo also from Catalonia, near the city of Tarragona. Here, Elisa Ribes makes just 5000 bottles of wine each year in her small village of 100 people, and her small winery about the same size as our store. Her wines are fresh, lively, and teeth-staining. A winery to watch for in the coming years.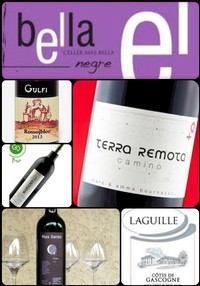 So there you have it--3 French, 2 Spanish, and 1 Italian. A nice balanced variety and no surprise, averages around $17-18 bottle. Its what we do!

So like last year the thing to do is wrap these babies up into a neat, ready to go unit. Need a last minute gift, to stock the wine cabinet, or to get ready for company? Here's your solution:
A six-pack of one each for just $89 (better than 20% off)
or
"Double Down" into a case of 12 for just $168
For just under $15 average bottle, what's your pleasure? To order, simply reply to this email with your request--"6-pack" or "Double Down" (2 bottles of each). Wines will be ready to go as of NOON today, Tuesday December 13th.

Plus, we'll have lots of other bottles open every day through the holiday for sampling, tasting, and tippling. Come see us soon...

Happy Holidays and Santé!

Dan Beekley
Jane Averin
Holiday Hours
We're open Tuesday-Saturday from 11am-6pm, straight through til Christmas Eve.