FIRST ROSÉ OF THE YEAR
PRE-ARRIVAL OFFER
Bonjour Cru,
I have been (im)patiently awaiting an answer from Pierre Martin on this for a week. I saw him last Friday at his tidy winery in Chavignol. I got there early this year (as in early in the year) because I wanted to taste his rosé. And I'm glad I did.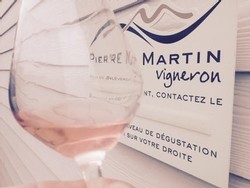 We met Pierre last May for the first time, and because his miniscule production of pink wine was already 86'ed, he told me to wait til next year. Then, 2016 went on to be one of the worst vintages, weather-wise, in 50 years in most of the Loire--heavy ice in the spring followed by hail in the summer. What few grapes survivied were delicious due to a long slow late summer ripening, but for lots of wineries production was down almost 80%. Ouch.
But, Pierre's hillside vineyards were largely spared and even though he usually makes about 1000 cases of rosé, he was only down to about 750 this year. And of course, everyone has come calling on this wine. Honestly, I think it's one of the reference points for rosé of Pinot Noir in the wine world, let alone the Loire. Pierre's smarter importers were already calling on January 1st!
So I needled him a little, prodded him some more, congratulated myself for being there early and then asked if even though, pretty please, we're a kind of new customer, could we, um, oooh I like your hat, that's a nice hat, have some pink wine this year?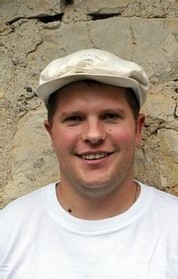 And do you know what he says?
"Only if you buy it all."
And then he belly-laughed. And asked if I liked to watch Portlandia. Pierre's a funny guy. Always 100% half-serious. Har-dee-har-har...
So, we're not buying it all (unless of course, one of you would enjoy a few bottles a day over the next 5 years), but in the end we are getting some, BUT only 180 bottles. Hey, that's 2% of the whole thing. I'm stoked!
Domaine Pierre Martin Sancerre Chavignol Rosé 2016, regular $25
Your pre-arrival price: $17.50
6-packs at $99
I've been keeping up with what's going on at home, and I know it's like 30 degrees and crappy and that perhaps the last thing you want to think of is a cool glass of rosé, but hey, we have to start positive-thinking somewhere, right?
Pierre's wine is a jasmine-scented, pale pink pure Pinot Noir that comes from a 35-year old parcel on the hillside opposite his home and winery. It is sooooo good, and soooo fresh, and we stood there together and drank a glass together directly from tank (it has now been bottled this week), thinking of summertime and barbecues and back decks and all the good foods this will wash down.
Those days will be here before you know it!
To order, please reply with your request "Sixer" or "Case" or whatever you desire, or click the link or photos above to read more about Sancerre and the lively, gregarious Pierre Martin. I expect this wine to arrive in the neighborhood of May 15th, seemingly right around the corner. I think you'll be happy to have a stash of this on hand from Memorial Day onward...
Cheers!
Dan
PS--Been bouncing around all over Italy this week and will offer you some wine from our first ever Piemontese producer next Tuesday (hint, hint: red wine from Asti)