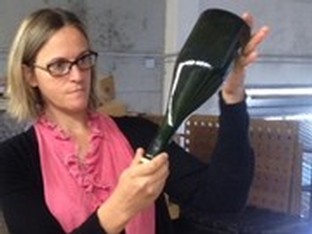 We are not in the Cava business.
Well, we're sort of in the Cava business, but not really.
Okay, yes. We are in the Cava business. Sort of.
Oh fine, let's just say we're in the Cava business then.
When we saw our friends Eva and Nuria Bonet over the summer at Celler Comalats we casually asked if there might be some Cava in the general area that they liked. Eva told us about her friend Susi, making wine in the nearby Vall del Corb. (Nuria just blew a kiss into the air and said, "their rosat is the best!") So a few weeks ago I called, then went to meet Susi and taste some wine.
I was greeted on a warm fall day by Susi and her high school English teacher, Conchita, who had made herself available to translate because, apparently, Susi really wasn't that good of a student. Maybe she was there paying a little penance, too?
Susi put her hands on her hips, locked me into a serious staredown, and said to me, "Look, I know Eva thinks this is Cava, but it is not. These are just typical Catalan Vi Escumós--straight up sparkling wines. They're made like Cava, follow all the rules of Cava, and look, feel, and act like Cava."
So what's the deal then? Why aren't they Cava?
"Our village never filed the right paperwork 20 years ago," she explained. "So, we can't call it Cava." (hands up, frustrated) "And that's just how it is..."
Oh-kay. Does it taste good? Well, who cares then? I sure don't.
But here's what I do care about--Susi's wines are super delicious, and ridiculously inexpensive too. Her family vineyards are at about 550 meters, essentially among the highest elevation vines in Catalonia, and a necessary ingredient when cultivating enough acid to make refreshing, sparkling wine. They make just 5,000-10,000 bottles a year of the two wines I've chosen to import. For a massive producer like Codorniu and Freixenet, this would be nothing more than a rounding error.
I've often wondered if Cava could be made on a farmhouse scale. A Susi's Celler Analec, I found my answer - yes, indeed.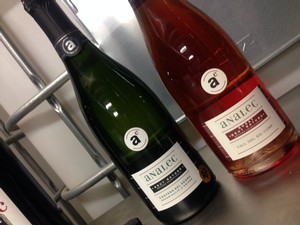 Here's what's on deck:
Celler Analec Rosat Brut ($13, on pre-arrival)--This is the wine that made Nuria blow air kisses. Crafted from a little little-known grape called Trepat, this for me was like drinking a pale pink sparkling tropical fruit juice, only bone dry and refreshing (Cava should never be sweet). Drink this stuff ice cold. Greet your friends at dinner parties with it, or serve it with dessert. It is flat out awesome.
Celler Analec Sort Abril Reserva ($15, on pre-arrival)--If this was Champagne, aged 36 months on its lees before disgorging, grown on high elevation hillsides, and made in a Brut Nature style, it would be a $50 bottle. But, here on the high plains of Catalonia you could own three bottles for that price, with a Lincoln left over. This was my favorite wine of Susi's--reminding me of how much I like dry, low-alcohol, minerally sparkling wine. It is an unusually refined bottle of bubbly that would blow away any discerning sparkling wine freak.
Any 6-pack at a further 5% off
Any mixed case at a further 10% off
I'd invite you to roll your own on this one. Please reply with your request: "3 of each", "4 pink, 2 white", "Mixed case, 6+6"--whatever your pleasure. You know the drill. (sorry, no web page available yet on this one.)
I expect Susi's Not Cava to arrive right around mid-December, just in time for holiday celebrations. I hope they'll make their way to your table...
Cheers!
Dan