PRE-ARRIVAL OFFER #2 for 2018
Pure Cabernet Franc
On a clear day, from the highest point of the vineyard, you can see the old fortified Cathar city of Carcassonne. It is a dramatic, to say the least - incorporating the world-famous, ancient Roman fortress on the Aude river. This is the view from Chateau de Brau, a farmstead near the village of Villemoustaussou, and one that has been appreciated by Gabriel Tari since boyhood.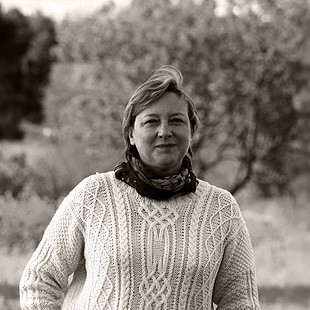 It was 1965 when Gabriel's parents set up their home at Brau, part of the 1 million person repatriation of the Pieds Noirs--the black feet French that returned from Algeria following their independence war. This was an unimaginably difficult time for these people--ostracized by the French (even though they all had French ancestry), and unwanted by the Algerians (although many families had been there for generations). This deep and somewhat lonely part of France, in the shadow of the Montagne Noire, was a peaceful place to re-establish a landholding and a family.
Gabriel's father began farming grapes, and sold his crop to a local negociant or cooperative. To please his father, even though the land was calling him to be a farmer, Gabriel moved to Montpellier to study law. Then, during a summer workaway program in Italy he met Wenny Slagmuylder. A Franco-Belgian romance began, and continues to this day.
It was Wenny thaultimatelyly convinced Gabriel to go back to his father and ask if SHE might run the vineyard. He did. And they did. In the mid-80's she enrolled in a winemaking course in Carcassonne, earned her diploma, and in 1988 the Chateau de Brau bottled its first wine. Wenny was never going to be satisfied being just some winemaker's wife.
Their history is an extraordinary and circuitous junction. I love thinking about all the pieces of their puzzle that fell into place just so.
Today, Wenny and Gabriel are in it together. Chateau de Brau has grown to 40 hectares, which sounds big, until you realize they have over 20 different grape varieties planted among 60-something different parcels. And it is this diversity that gave birth to Wenny and Gabriel again doing something extraordinary--bottling a range of single-variety wines. It's an idea that was, and still is, unheard of in this part of France, where the local AOC Cabardes, by law, must be a field blend.
It's called PURE (many of you know it well already) and on the surface it is an appropriate name for a mono-cepage wine. But I wonder now if the Tari's life story might actually have been the impetous for the brand.

It's a PURE story.
Chateau de Brau PURE Cabernet Franc 2015
on pre-arrival at $15
5% off on six-packs, 10% off on solid cases
I've been waiting for this wine to be ready for two years. On my first visit with Wenny and Gabriel a few years ago I tasted this wine from barrel, only a few months following harvest, and watched them both gush with excitement. They knew (as many winemakers did) that 2015 was going to be a magical vintage. Everything clicked. And now, after a year resting in the bottle, this Cab Franc could easily go down with the year's top honors--and it's still just the 2nd week of January!
Look for a velvety, polished, ample, dark-fruited red wine that is loaded up with currant, allspice, and little smoky chocolate aroma. You'll enjoy it right away upon arrival in April, but will be rewarded by squiring some away for another 3-5 years if you have that kind of patience.
At $15 this wine should not exist. To order, please simply reply to this email with your request: "Sixer", "Solid Box"--you call it. Or, click the link or photo above to read more and order on-line.
Cheers!
Dan
PS--Two spots remaining, or 1 for an adventurous solo traveler, for our Loire getaway at the end of May. Ping me back if you want more details or a photo tease!