CHAOS AND CALM NEAR CHATEAUNEUF-DU-PAPE
A RHONE RED (and Rosé) PRE-ARRIVAL OFFER
There is a real magic to this story.
When I first arrived to visit Veronique Lombardo at Chateau La Devoy Martine two summers ago, all was calm, and she greeted me casually and warmly. As we talked and began tasting some wine her obviously disgruntled (pissed off really) father came into the winery as he yelled at someone on the phone. For a moment he asked the recipient of his anger to attends--wait a moment.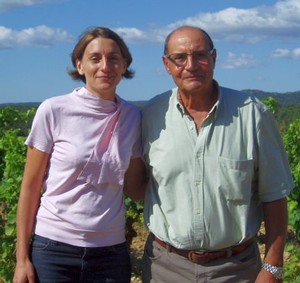 He then put the phone down, and pumped my hand vigorously, seemed genuinely interested in where I was from and what I do, made me feel at home, and said he would be back in a few minutes. Then, he resumed his phone call. Within earshot.
Veronique rolled her eyes and explained that the guy on the other end of the phone was the local tire dealer who had recently serviced the tractor with some new pneus. However, earlier that morning, one of the brand new tires blew out, defective, and the tractor rolled. On the steep part of the vineyard. And threw her father off.
He was fine. But now the negotiation had begun.
We continued our tasting but I was picking up bits of the, um, conversation from the other room. Finally, Veronique's father returns, seemingly placated, and nodded at her satisfactorily.
"They are coming now to fix the tractor."
"And we will have lobsters for Christmas this year."
---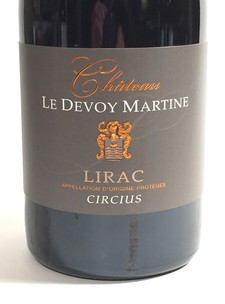 Such is life here in the very southern Rhône, not far from the sea, in the appellation of Lirac. Veronique's father Marc, along with his brother Joseph, fled political uncertainty in their adopted homeland of Tunisia in 1962 and returned to their native France to purchase 40 hectares of forested over scrubland. They created a small farm and vineyard--and never looked back.
From chaos to calm.
Veronique joined her father and uncle in 2008 and convinced them that their 40 years of hard work had now created a place worthy of bottling wine on its own, not only to sell grapes to the local co-op, and watch their hard work disappear. She recognized Lirac as one of the great, yet still somewhat unknown, Cru of the southern Rhône. It also interested her that quite a few producers of nearby Chateauneuf-du-Pape also owned small holding in the area. What did they know?
Lirac is the only Cru of the southern Rhône to produce appellation wines in red, white, and rosé. But it's a particular red that I want to offer you today. (well, and a soupçon of rosé too. Please continue reading to the bottom...) The top Lirac rouge at Devoy Martine is called Circius, a latin word for the mistral, or winter wind that comes from the African continent and makes January days kinda unbearable.
Chaos.
But the mistral also can bring refreshment to the vines in summer and fall, cooling them at night during blazing hot days, protecting acidity in the grapes, and lending a soft touch to what could be otherwise bruising red wines.
Calm.
Chateau La Devoy Martine Lirac 'Circius' 2013, regular $27
Your pre-arrival price: Just $19
This Lirac is exceptional--an at once powerful wine, loaded with brambly, succulent red and black fruit. Yet on the other hand a fine, balanced, nuanced red that rivals many wines one can taste in doubly-priced Chateauneuf. Grenache and Mourvedre give the stuffing, color, and body. A bit of Syrah adds a high-toned quality--a crack of the pepper mill, a bit of lavender.
I would not propose having this wine with lobster. (Their rosé, yes. Read on...) But, an early summer barbecue, with a good cut of beef? Homerun. I expect the wine around mid-May. To order please reply to this email with your request or read more and order on-line by clicking the link or photos above.
Okay, finally, you're here at the bottom....
Also, I'm importing 60 magnums of Veronique's best rosé called Via Secreta. Who doesn't need at least ONE party-sized magnum of pink around for the summer? These are $32 each and available only by hitting reply. Classic, bone-dry, awesome Provencal rosé.
Cheers!
Dan
PS--Lots of French wine arriving at the end of this week. Stay tuned for a notification email...