Hiya!
Another short missive for you today on the heels of opening this bottle of red last night. Many of you will recognize this label from last year. It's a red from the Mediterranean south of France that we tasted and drank just a bit cool. It's oh-so juicy, fresh and delicious. A perfect red for summertime!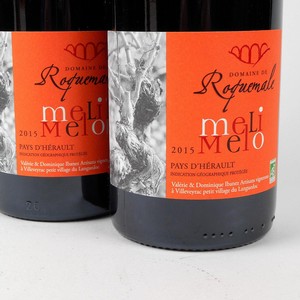 The husband/wife team of Valarie Tabaries and Dominique Ibanez work their Domaine de Roquemale about 30 minutes from the city of Montpelier within site of an old Bauxite mine. Their wines are like them: sunny, bright, and full of energy. They're childhood sweethearts and in 2001 purchased 12 hectares in the village of Villeveyrac and have never looked back. We love everything they make.
So the wine in question this morning is called Meli-Melo, a cool French slang term meaning "a collection of miscellany; a hodgepodge". They also like to use the word in the spirit of "haphazard", as in, "Hey let's just grab a bottle of wine and crank it down!"
And that's what Meli-Melo is. A youthful, exuberant red that's ready to drink, like, right away, slightly cool, with whatever hodgepodge of dinner or family or friends happen to come round. Who doesn't need a half dozen of them lying around, hmmmm?
The wine blends two ugly duckling grape varieties: Alicante Bouschet and Cinsault. Perfect together to create a fruit salad of a red wine--loaded with cherries, berries, and a whiff of white pepper.
Domaine de Roquemale Meli-Melo 2015, $16
On Sale today for $14, but even better,
Six-packs at $75, just $12.50/bottle
To order yours, simply reply to this email with your request and I'll make the magic happen. Or, you can click the link or photo above to read more and order online. Also, I'll have this bottle open this afternoon to taste if you're in the neighborhood, and as supply lasts.
Have a great weekend!
Jane