No Prestigious Ruins Here
Hey Saturday Cru,
While visiting Carcassonne about a year ago, I stayed in a cool little hotel just below the city's fortress wall. It was one of those 4-room joints with a neat little café and restaurant on the street level. I got chatting with the matron that ran the place and took a nightcap at the comfy bar. It was a cold and damp evening and I wanted a hearty red. She brings a bottle over and said, loosely translated, "you'll have never heard of this wine, but it is the best wine of the area."
Into my glass, she poured Wenny and Gabriel Tari's PURE Fer Servadou. I smiled a knowing smile and told her I had just come from dinner with the Tari' and that I was their US importer. She thought on this for a moment and then said, "you must have happy customers then..."
I hope so.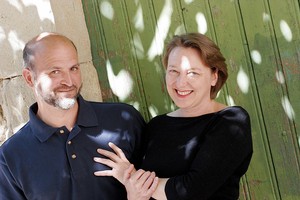 I was at first attracted to the wines of Chateau de Brau when I stumbled onto their website. Gabriel is pictured front and center with the caption "No, No, and No again!" prominently displayed. What follows is something of a diatribe on what working naturally means to him.
"There are no prestigious ruins"
"not every vintage is exceptional"
"organic farming isn't just a matter of doing nothing while the weeds grow."
Amen, brother.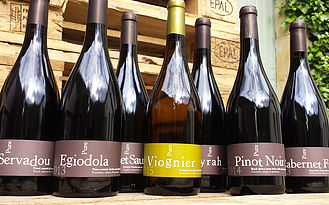 This is a small winery with a diverse array of wines. I have visited Brau three times now and always leave all fired up for their PURE lineup. I can tell that Wenny and Gabriel favor these too.
Each year Gabriel designates a handful of plots to single varieties, producing no more than a few thousand bottles each! This is exactly the kind of stuff we're looking for...
Here are the best 4, like, right now, just arrived on a cold import container from France:
PURE Cabernet Franc 2013, $16--Fine, smoky aromatics like Bordeaux, but with a wilder, more powerful element. What a pleasure to drink! Perfect with your next barbecue.
PURE Pinot Noir 2015, $16--I grabbed a bit of this year and it wasn't enough. I know, who the hell brings Pinot Noir from Carcassonne to Oregon? Oh forget it, don't answer that.
PURE Petit Verdot 2014, $18--A new edition, and the smallest production of all the PURE wines--just a thousand or so bottles produced. The darkest, most ample, and wonderfully rich of the four wines. Almost black color.
PURE Fer Servadou 2014, $16--A perfectly wonderful example of southwest French wine. At once kind of wild and crazy, and at the same time, pretty, refined, and elegant. We love the dark currant aromas on this one.
Okay, ready to cut to the chase?
Chateau de Brau PURE mixed 4-pack
One bottle of each to make a nice 4-pack: Just $54
Three bottles of each to make a mixed case: $150
These are interesting and tasty wines at their regular prices, but at $12/bottle, they're all the more delicious! The wines are in stock and ready to pickup right away.
To order, please simply reply to this email with your request--"4 Pack", or "Mixed Case".
Or, click the link or photos above to read more and order online.
Cheers!
Dan
PS--Yes, I have some rosé landing soon! Stay tuned for this year's version of "Pink Don't Stink!"