Hi Friends,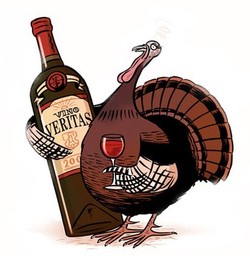 Just a couple things this afternoon to head you off into the weekend:
Dan and I will be pouring the following lineup tomorrow, Friday 11/18 from 4-7pm, all of which would look great on your holiday table---
Mathieu Cosme 'Fines Bulles' Sparkling Vouvray, $21
La Paroisse Cotes Roannaise '1878' 2014, $23
Chateau Lapinesse Graves Bordeaux Rouge 'Cuvee Prestige' 2011, $32
and a surprise treat that will blow your mind and is worth the visit! (oooh, aren't you tempted?)
Tasting is always free. Come one, come all.
---
We'll have expanded hours for the remainder of the year, starting next week, Tuesday-Friday from 11am-6pm, and Saturday from 11am-4pm. Holidays notwithstanding.
Keep your calendars marked for our big holiday weekend tasting, December 10th and 11th, from 11am-6pm. A heckuva lineup of sparkling wines plus Two Tarts cookies on hand! Did you order your Two Tarts cookbook yet? It will be ready to pickup on these dates.
---
The Thanksgiving Survival Kit is making a giant sucking sound out the front door. Need yours? 6-packs are made up of six different wines--a sparkling rosé, a dry Muscat, the above 1878, a toothsome Barbera, a kitchen sink Provence red, and a dark and stormy Spanish Montsant, all for just $89. Or Double it Down to make a mixed case for only $168, just $14/bottle for wines that average $18. Nice!
Read more and order online, or just reply to this email with your request.
---
We have a few slots open in our local Pinot Noir club, Indie 100. Four times a year you'll receive a 3-pack of hard-to-find, largely unknown Pinot Noir from local independent winemakers. All for $100/quarter. Nice deal. Wines are available March, June, September, and December. The next trifecta will be available around December 10th. Gift to self?
You can JOIN HERE.
See you soon.
Cheers!
Jane Averin
CorksCru Wine Merchants