Ciao Cru,
There are 3 reasons to visit wineries in the dead of winter:
No one else is there

One can taste and drink wine directly from tank

You get there early enough to get an allocation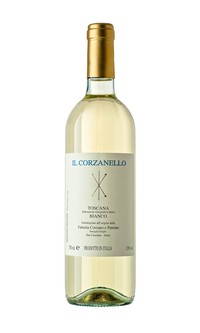 This is the way it went this past February when I visited with Aljoscha "Joschi" Goldschmidt at his Fattoria Corzano e Paterno. Evidently Tuscany isn't always sunny, and in fact can be downright wintery. Yet there we stood in the cold winery, toes freezing in my boots, and tasting (not spitting actually) Joschi's one and only white wine right from the stainless steel tank.
He says, "Let's fill our glasses and go sit by the fire!"
Warming in the winter. Cooling in the summer.
Last year I really messed this up and got just a few cases of this delicious white--among my favorites in Italy. But, arriving in mid-February, one can plan ahead better. Yet this time, yields were down (bad for business, good for quality), and there wasn't much to go around anyway. So, 20 cases are en route and will be here next week (let's call it June 1st).
I'm offering this today to you at a special price.
Corzano e Paterno Il Corzanello Bianco 2016
regular $18
on Sale at $14
5% further off on 6-packs, 10% on solid cases
Here's the deal with this delicious and unique kitchen sink of a Tuscan white wine: Every white grape on the vineyard comes together in this one bottle: Trebbiano, Malvasia, Sauvignon Blanc, Semillon, Chardonnay, and Petit Manseng. The latter is a variety from the Pyrenees and gives the wine its uncommon freshness and acidity.
Truth be told, I care for Italian white wines from two places--the very north in Alto Adige, and this gem of a Tuscan winery. Done. For around $13/bottle it's really hard to beat and I think you'll be happy to line up a half dozen in your fridge for easy access this summer.
To order, please simply reply to this email with your request: "Three", "Sixer", "Dozen"--whatever your pleasure. Or click the link or photos above to read more and order on-line. Again, this wine is about 1 week away, expcected on June 1st.
Cheers!
Dan
PS--We're tasting in the store tomorrow evening, Friday 5/26 from 4pm-7pm. If you're first to arrive, you can help decide what to pour for those that come after you. Who's gonna be first? See you here!