A CHATEAUNEUF LOOK-A-LIKE
(ON PRE-ARRIVAL)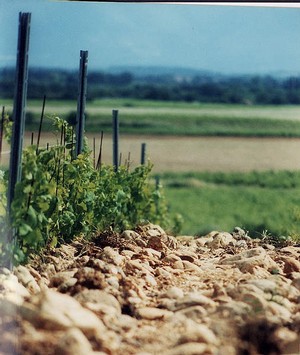 If you ever choose to visit Cathy Sisquelle, do not agree to a walk through her vineyards in:
flip flops

chucks

vans

sandals

bare feet
You will likely break your ankle.
See those rocks? They're meant for tromping over in good, sturdy boots, or on a nice, sure-footed mule. Growing grapes in that stuff is nuts, yet all over the south of France, we see vineyards like this. Especially in the Rhone, where they are planted on ancient river beds.
Great subject for coffee table books: Head Scratching Agriculture.
In French these are called galets roulés--literally rolled or rolling rocks, having churned underwater for millions of years some eons ago. Underneath, one can find soil-rich marine sediments, but on top, nothing but sprained ankles and torn ligaments.
It doesn't take much to understand that vines do not experience vigorous growth here, nor do they yield much fruit. Yet impassioned vigneronnes like Cathy do it because they know three things:
Vines can live to a very long age in this stuff

With that age comes intense concentration of fruit

Grapes grown on these rocks yield truly memorable wines.
Like this one:
Chateau de Rey Les Galets Roulés 2015
on pre-arrival at just $24
(regular $32)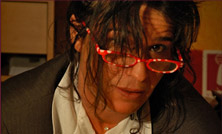 Cathy blends Syrah with 100-year old Carignane to make a wine of great power and complexity. The color is almost black and transfers easily to the tongue and teeth (don't drink a glass then go for your Driver's License photo). A year's worth of aging in French oak lends the wine an extraordinary silkiness.
Here's how Cathy describes this wine:
En bouche--La marmelade de fruits noirs, la mûre, la myrtille, le cassis, le laurier, la sauge sauvage,la cannelle et le café torréfié.

In the mouth--a marmalade of black fruits, wild blueberries, black currants, laurel, wild sage, cinammon, and roasted coffee.
You can pass some cold winter nights with this beauty, for sure. You might even decide to pass some winter nights over the next 10 years with it, too. I expect the wine to arrive right around mid-December and be in your hands before the holidays. We are the proud owners of 5% of her production--120 bottles of the 2400 (just eight barrels) produced. Love it!
To order please reply with your request (it comes in convenient square 6-packs). As usual, you'll receive a further 5% off on Sixers, and 10% off on an even Dozen. Or, click the photos or links to read more and order online.
Cheers!
Dan