OUR FINAL OFFER OF 2017
THE YEAR'S BEST RED AND WHITE
Hi Friends,
I hope you enjoyed a great Thanksgiving and a long, restful weekend. I'd like to take a moment to express some gratitude to all of you today for a really meaningful year. The enthusiasm and support you've shown for Road Cru has been remarkable. I can't thank you enough for following my travels to each region, winery, and cellar. So, from me and every one of our winemakers...
Many Thanks! Grands Remercies! Mille Grazie! Muchas Gracias!
Rounding it all out is an offer that features our two favorite wines of the year--one red and one white. Every so often, I turn to Elizabeth and ask her if a particular wine is stellar enough for this "best of" offer. The criteria demand that they be not only two of my personal favorite wines, but that they are also hands-down winners among the Cru faithful.
Drumroll please...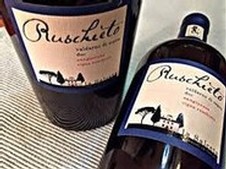 The RED--That awesome glass-corked STUBBY BOTTLE: La Salceta Ruschieto Sangiovese 2013--Ettore Ciancico is hitting on all cylinders. His organic olive and wine farm near Arrezzo is magical, as is the pizza oven in his tasting room. This pure Sangiovese is plump, plummy, slightly chewy, and oh-so-concentrated. And that package is pure genius. Most of you already recognize it. Here's your last shot at more. Regular $27, on pre-arrival at $19.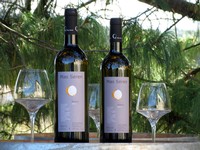 The WHITE--From out of this world, and ready to drink EVERYDAY: Mas Seren Etamin Blanc 2015--Emmanuelle Schoch is our #1 winemaker. We've imported more wines from her over two years than anyone else. And for good reason. Her wines are lively, energetic, savory and delicious. She doesn't own a splinter of oak. And, they're great values. This heady white combines Viognier and Vermentino into a remarkable wine for the money. Only 2000 bottles produced. Regular $25, on pre-arrival at $17.
I'm thrilled with several of the wines we imported this year, but these rise to the top for me. They were also among our best sellers, and best RE-sellers. So I ordered 120 more bottles of each for your end-of-the-year, holiday-time pleasure. They'll be in the store and ready to go this Thursday.
You know what to do: To order one and/or the other, please reply to this email with your request. Solid or mixed 6-packs at a further 5% off, and Solid or mixed cases at an additional 10% off. Or click the links for photos above to read more on each wine and order online.
Happy Holidays!
Dan