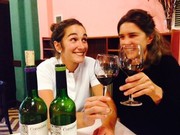 Each year at about this time I get excited for a few of our wineries that bottle up a red wine from the prior vintage, and make it ready for immediate consumption. I love wines like this, only six months removed from being grapes on the vine, and a step away from grape juice in the tank. Enjoying wines like this are a mark of a good winery. Hey, if you can't/won't drink it while it's youthful and fresh, then you probably won't want to drink it down the road either.
This year the wine is a brand new effort from the Bonet sisters, a lively and purple-fruited Syrah/Cabernet Sauvignon blend and the first time ever they have introduced Syrah into the market. It was a wine that almost wasn't. The Syrah became so juicy, sweet, and ripe this year that the birds enjoyed a regular afternoon buffet from their small vineyard. It took a lot of patience and loud banging noises to shoo them away. And as such they commemorated the wine by calling it Esparver--the Catalan word for Sparrow.
Celler Comalats Cabernet/Syrah 'Esparver' 2017
Just $15 on pre-arrival
5% further off on 6-packs, 10% off on solid cases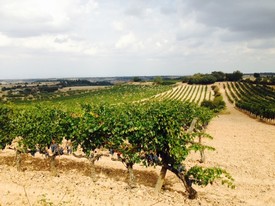 Comalats is an incredible vineyard in the Segarra, a part of western Catalania not far from the pretty city of Lleida. The area reminds me of western Kansas--wide open plains, rolling hills, and amber fields of wheat and oats. The Bonet family are the only grape growers for miles and their is the only business in their tiny village of Ametlla (pop. 14).
The finished wine is just scrumptious. The two bottles we received at home a few weeks ago to sample disappeared over our dinner party for 4 in about 45 minutes. I love youthful red wines (drunk slightly cool) with that 'slurpable' kind of quality. The Cabernet gives a nice fine dusty tannin, while the Syrah gives the red and purple fruit plus a quick twist of the pepper mill. Made entirely in tank to preserve the fresh fruit quality and aromas.
Only 1800 bottles made (this is a really small winery) and 600 of 'em are allocated to the Road Cru faithful!
To order yours please simply reply here, or click the link or photo above to read more and order online. I expect the wine around mid-June and ready to drink right away with your summer BBQ.
Cheers!
Dan
PS--Want to go meet the Bonet sisters and chase away some sparrows yourself? Elizabeth and I are happy to announce a new trip, our final of 2018. It is a tour around the eastern Pyrenees, starting in Carcassonne and finishing in south of Barcelona. Half the trip in France, and half in Spain. 10 days, including most of those in great private houses near the sea in Collioure and in the wonderful city of Girona. Sound like you? Ping me for more details... October 18-28th.