Our meeting was cut short, not because I had a flight to catch or anything, but because Carlos Arenas was to be pouring wine that evening at a bachelorette party. With a prodcution of just 10,000 bottles/year, and a winery located in a commercial warehouse, he suggested he couldn't lose a single shot at direct-to-consumer sales.
He joked that he hoped they weren't expecting him to show up in a police uniform.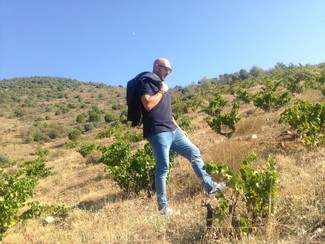 Carlos and his partner Guillermo Fernandez created Maldivinas in 2006, searching for a new project, and wanting to be close to nature. But I think what they finally embarked on has taken even them by surprise. Grape growing ain't easy, and creating a wine brand even less so. You wouldn't blame Carlos and Guillermo for shaking their heads after 10 years and wondering, "what for?!"
Carlos has a day job in fiber optics. Guillermo in horticulture. Together they discovered two abandoned plots of 60-80 year-old Garnacha vines in the area of Gredos, about an hour west of Madrid, and thought it would be a brilliant idea to rehabilitate them. This was an area prior to the Spanish revolution that was covered as far as the eye could see with grapes. But as Spain industrialized following WWII, sharecroppers simply walked away from vineyards, seeking work in factories or elsewhere.
With only minimal care these amazing plants survived and with the work of a horse and their bare hands they have revitalized the vines and made them yield again. The work took almost 5 years. There are now two vineyards of 2 hectares each that give a skimpy but extraordinary crop of Garnacha. The vines are all bush-trained--no trellises--and yield only 4-6 clusters per plant. The slate (schiste) soil is notoriously stingy for plant life, yet miraculously giving in terms of flavor and complexity.
So I showed up in Gredos on a clear, fall Saturday morning expecting Garnacha in the form of Chateauneuf-du-Pape or Gigondas, or even Priorat--ample, powerful wines. And what I got instead was a jaw-dropping lesson (a reminder really) that one simply must not judge a grape by its variety name. Because here, at high elevation, and on steep (35% grade) slopes, with very little water but lots of sunlight, it is possilble to make something more akin to Burgundy. Yes...in Spain.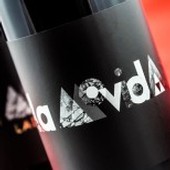 Look, I hesitate to even make this comparison. But I think it's fair and important to point out that these wines aren't teeth-stainers. Nor do I want to make them sound too cerebral. They are meant to open and enjoy. But in the end the bottom line is this: These two bottles of wine have elevated themselves to among the favorite things I've tasted this year--wonderful examples of something unique, something authentic, and something delicious.
What more could I want?
Maldivinas La Movida Canalla 2013, a blend from each of two vineyard parcels, one on slate the other on calcaire. Dark colored but filled with lively, black cherry and almost as if someone got Garnacha together with really ripe Pinot Noir and they got busy! ($24)
Maldivinas La Movida Laderas 2013, the most wonderful and extreme vineyard on which I have step foot in years. A steep pitch and surrounded by wild lavender, thyme and fennel, all which shine through in this silky, complex, utterly fantastic bottle of wine. A nearly perfect bottle of red. ($36)
A Deuce, one bottle of each for $50
A Six pack, 3 bottles of each for $144
I have exactly 60 bottles of each to work with and expect the wines to arrive around mid-December. To order please reply with "Deuce" or "Sixer", or click the links above to order online. These are delightful wines that are sure to please during your upcoming holiday meals or as a fine gift for any wine lover.
And let's keep our eyes on Guillermo and Carlos shall we? I think there's a lot more to come...
Un fuerte abrazo,
Dan