Bonjour Cru,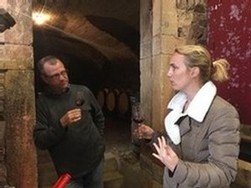 Marie-Elodie Zighera is unlike any young winemaker I've ever met.
Her winemaking style is firmly rooted in 1911, the year her oldest vineyards were planted. As a winemaking 30-something one might expect to listen to her explain the virtues of this new method and that. But instead she reveals a story that I'll bet she's told a thousand times.
A decade ago she attended a tasting in Beaune and the conversation came around to her vines in Morgon, from a small parcel owned by her grandmother and planted before WWI. A curious listener knew the place, called "Chateau Gaillard", and also recalled drinking wines from the property half a century or more earlier--reminiscing of how youthful, expressive and beautiful they still were. Marie-Elodie was hooked on this idea.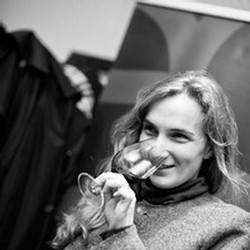 So instead of crafting her wines in the modern school of Beaujolais--juicy, tooty-fruity, and headache-inducing, she began research that ultimately revealed to her that Gamay in Beaujolais could be handled in the same way as Pinot Noir a bit further north in Beaune.
There is nothing modern here. One can more imagine they've stepped into a winery in 1930 rather than 2016. There is an utter void of fancy winemaking tools and equipment at hand.
Marie-Elodie makes just two wines from small parcels in Fleurie and Morgon. I would put these two wines on par with the best wines I've had in Burgundy and perhaps among our whole portfolio. They've been resting in her cave for 3 years now, and frankly, could continue on for another 30.
Fleuire "La Dot" has an abundance of complexity. We drank the wine together over an hour and Marie-Elodie joked that it was like having 15 different bottles in one. Each return smell and taste from the glass revealed something different--wild berries, black truffles, forest floor, cherries, and on and on and on. The 2012 is feminine and dellicate--like drinking old Pinot Noir. The 2013 is more rich and powerful, loaded with black fruits and a bit weightier.
Morgon "Chateau Gaillard" comes from a small vineyard owned by 4 generations of Zighera women and for my money, is the crown jewel of the appellation. At first, the wine reveals a smoky, leafy aroma but after 10 minutes was singing with exotic and dried fruits, a whiff of truffle, and an intense black cherry. The 2012 is one of the finest examples of Cru Beaujolais to ever cross my lips. But then 2013 joins the party and then I'm not so sure anymore!
Marie-Elodie has both Fleurie and Morgon available from the 2012 and 2013 vintages and I'd like to propose a mixed 4-pack, one bottle of each, to get you hooked on her lovely wines.
Cloz de Mez Cru Beaujolais 4-pack
$72 per 4-pack; or a slightly better $198 for a mixed case
One bottle each of 2012 and 2013 Fleurie + One bottle each of 2012 and 2013 Morgon
Please order as much as you'd like by responding to this email with your request--"4pack" or "Mixed Case". I expect the wines to arrive sometime in early December. I think you'll enjoy having these delicious wines in your larder for holiday parties and dinners.
Cheers!
Dan