AN ITALIAN ROSATO PRE-ARRIVAL OFFER
"Basta!", he says.
"Let's have a little rosato before we start the tasting!"
So we trudged in the dark, down the old stone steps, and into the winery. He flipped on one light and we went straight to the tank. We each tapped a healthy glassful and stood right there in the dimly lit winery, and quaffed it.
Not really a tasting. More like a toast.
Then we had another little half glass each. Why not? A pink wine is the harbinger of Spring, the expectant taste of Summer. And on this dark February night, somewhere deep in Tuscany in the bowels of a wine cellar, winter was evaporating, at least for a few minutes.
I arrived too late last year for this rosato, but was determined not to miss it again. Bottling was finally just done last week and our order has already been placed. It is the final Italian wine to talk with you about until the fall. Our work is done here for now.
And when it arrives in May it's the bottle I will make cold and drink first. Mmmmm, I can taste it already.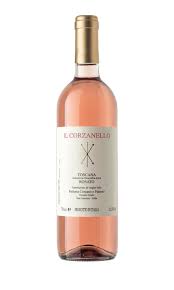 It is a Sangiovese from Tuscany, Chianti specifically, and it is always the first wine to roll out the door at Corzano e Paterno--bottled in late February, sold out in April. I've never really been a fan of Sangiovese rosé until this one--so lively and refreshing, so fresh and tart--ready for summer.
"It's good because I don't mess around with it," says my friend Aljoscha. "We pick it, we press it, we keep it cold, we make it clean, we bottle it."
That's the recipe.
Don't fret that this might be one of those bubble gum, watermelon salad kind of pink wines. It's not. The shimmering pale pink color gives it away. This is a rosé with zippiness and light. There's nothing dark and sappy here. You could line these babies up in the fridge on one of those spring-loaded dispensers like they have at the convenience store.
There will always be one ready to go.
Corzano e Paterno Il Corzanello Rosato 2016, $17
Yours for just $12.50 on pre-arrival
There's not a little, but there's not a lot either. Aljoscha only makes about 7000 bottles and it will arrive here around mid-May. $75 for a six-pack is a nice deal. I'll go slightly better if a case seems appropriate for you--how about $144?
To order, simply reply with your request--"Three", "Sixer", "Dozen"--or click the link above to read more and order online.
Back to France and Spain with new offers starting next Tuesday...
Saluti!
Dan