A CHIANTI CLASSICO AND A 'SUPER-TUSCAN'
PRE-ARRIVAL OFFER
Ciao Amici,
Plugging the address of Poggio al Sole into the rental car GPS is useless. "Address not found" is the result. Thankfully, Kathrin and Johannes Davaz provide actual latitude and longitude coordinates on their website. Otherwise I never would have made the appointment.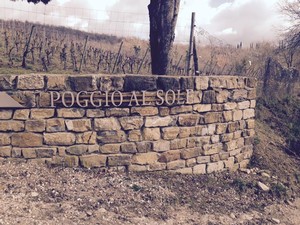 From Tavernelle Val di Pesa one drives on single lane roads past olive orchards, oak forests, and vineyards, alongside the famous (and fantastic) Badia di Passignano and to the end of the road. One then turns left onto a small dirt road and continues another 3km or so and finally arrives at the winery.
Then, one never wishes to leave.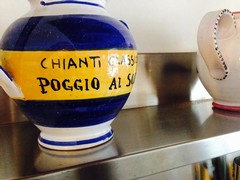 Upon my return from Italy last week my daughter dutifully grabbed my phone in order to go through the photo stream. I knew she had landed on the pictures of Poggio al Sole when I heard the noises--"oooh", "wow, that's pretty", and "can we go here this summer?!" The enthusiasm is warranted. This is a really special place.
The Davaz' arrived here 27 years ago, fresh from enology school, Johannes' family having recently acquired the property from near abandonment. Over that time they have laboriously and painstakingly restored the vineyards and the house, and created a fantastic winery. But how does anyone find it?
Luckily, we did. And we won't soon forget it. This is the heart of Chianti Classico, arguably one of the top 3 or 4 sites in the entire denomination (not by way of my opinion, but that of the region's top consulting enologist). In fact, their property is surrounded on virtually all sides by vineyards that are farmed, or belong to, the famous Antinori. Poggio al Sole is one of only two independent wineries in all of Tavernelle Val di Pesa. Antinori makes the rest.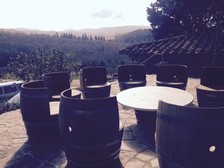 So what did we discover here? Two wines--a glorious Chianti Classico and a proprietary red called Seraselva. Kathrin just sent me a note two days ago in reply to my request to work together. It said, "Okay, we're good to go!"
So today...Let's GO!
Poggio al Sole Chianti Classico 2014--This is simply put, a wonderful bottle of Sangiovese. One would never know that it comes from a somewhat difficult vintage, where nearly a quarter of the grapes were cut onto the ground in a green harvest. But, remaining clusters then gained terrific ripeness and complexity. The result is a Chianti Classico that reminds me of Pinot Noir on steroids--not dark and opulent, but more fine and beautiful. You could age this puppy for years.
Regular $25, on pre-arrival at $17.50
Poggio al Sole Seraselva 2013--I hate the term 'Super Tuscan' and so do most Chianti winemakers, but here this wine demands comparison. The famous Antinori Cabernets Tignanello and Solaia (up to $200/bottle) come from vineyards on the same hillside. This 60/40 blend of Cabernet Sauvignon and Merlot is rich, weighty and opulent. A wine that is arguably among the top reds in all of Tuscany.
Regular $37.50, on pre-arrival just $25.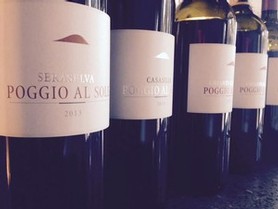 Between Corzano e Paterno and now Poggio al Sole I think we have two of Chianti's great gems on our hands. I hope you'll give these remarkable wines a try. I know some will end up in my cellar.
This is a "roll your own" offer. Please respond to this email with your request: "Two of each", "Mixed Six, three of each" or something like that. Or, you can read more about each wine by clicking the links above and placing your order on-line. I expect these wines to arrive by early May.
Have a great weekend!
Dan
PS--Three more Italian offers heading your way over the next two weeks--but only one more red wine. Stay tuned for this, some remarkable whites, and a brand new rosato!