Bonjour Cru!
Tooling around Europe in August means that I'll miss Monday's celestial event. But don't think I won't be there with you in spirit! (just not in the traffic...)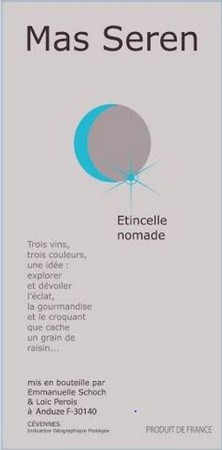 To commemorate the event we'll be enjoying a few of the wines from Emmanuelle Schoch at Mas Seren. Why? Easy. All her bottles are labelled and named with an astronomical bent: Etamin, Mintaka, Lilith.
And best of all: ETINCELLE
An etincelle (French for 'spark') is also a word used for the first burst of light that re-appears following an eclipse, or perhaps upon sunrise. It has a deeper meaning as "fresh start" or "new light" that is fun to consider too.
How great is that?
We have two Etincelle wines in the store right now, ready to go: Mas Seren Blanc 2016 ($15) and Mas Seren Rosé 2016 ($15). Both fresh, both lively, both juicy and fruit-forward and ready to crack open and slurp down.
Emmanuelle makes wines in the south of France in the region of the Gard, not far from Montpelier. We're her exclusive US importer and we buy almost 20% of what she makes. They've become staples among the Cru faithful!
Others may try to sell you the exactly perfect wine for the ecliptical occasion, but none will make more sense than these. Come and get 'em!
I just put both wines on sale for $13, with regular discounts available on top of that: 5% off any mixed 6-pack and 10% off on any mixed case. Want some? Just reply to this email with your request, or march yourself down to the store and pick some up right away.
Amalie and Yamile will have both bottles open for sampling, and/or for $3/glass--straight through the weekend. Don't forget to wear sunglasses...
Cheers!
Dan