V-Day, Just around the Corner. Gift Idea?
Hello Lovers,
I've found a better way to buy Bordeaux. The best wines from the region are made in almost homeopathic quantities. Those tiny wineries and their minuscule productions generally sell their entire bottling to the big Bordeaux marketplace merchants, wipe their hands, and run to the bank.
That same Bordeaux marketing machine sucks up all the well-known brands, then sells them off as a package to huge importers and distributors. At the end of the day, all that's left are the dregs. Mass-produced industrial junk that is, frankly, not interesting.
For a micro-importer like us, it's impossible to do business this way. First, we're not big enough to buy full containers (1100 cases) a year ahead of time, and second, the big brands are everywhere. Who wants to play that game?
Then, two years ago, I met Melanie Bonville and my outlook changed. Melanie also felt that many Bordeaux properties, while enamored with the idea of one invoice and one payment for their entire production, were missing out on something. Actually knowing who their end customer was. For her, the system was unsustainable.
So Melanie started working with about 20 tiny, high-end Bordeaux producers in great appellations--St. Emilion, Pomerol, and beyond. These are small families that wanted to know more about their importers, and wanted to start relationships that mattered. She organized a tasting for me at a Libourne wine bar and let the wines do the talking.
And they did.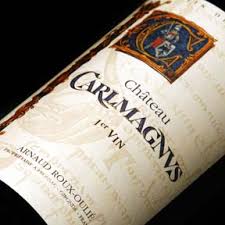 Thirty sample bottles later, we vowed to get the ball rolling. I chose three properties to start - each a stunning example of the region. Here they are, packaged together in a Valentine Bordeaux Trifecta--a truly wonderful and meaningful mix of small production Bordeaux:
Domaine Claouset Bordeaux Rouge 'Futs de Chene' 2015--The Domaine de Claouset Rouge Futs de Chene 2015 is shockingly delicious--a veritable salad bowl of red fruits. This is one of those bottles I would put someone's hands that wrongly believes all Merlot sucks. Why? Because it proves in fact, that um, all Merlot doesn NOT indeed suck. In fact, from properly farmed vines, and splish-splashed with some structured Cabernet Franc, it makes for an uncommonly rich and complex wine. ($15)
Chateau Carlmagnus, Fronsac 2012--This is the crown jewel of the holdings of Arnaud Roux-Oulié, a gem of just 6 hectares, pure Merlot, grown on the upper terrace about the cute village of St. Michel-de-Fronsac. Here's the Merlot that would have made that depressed guy in Sideways shut the hell up about trashing Merlot. I thought maybe Arnaud's 2011 was a bit over the top, but this 2012 is plump, plummy, generous and complex. A wine to cellar for 10 more years if you do that sort of thing. ($32)
Domaine d'Arvouet St. Emilion 2014--This wine right here is a perfect example of what I'm talking about above. A Montagne St. Emilion that when distributed through the Bordeaux marketplace would undoubtedly run $40. But now, we can score a bottle like this. This is just the third vintage of Chateau D'Arvouet and for me, it hits on all cylinders. Merlot, Cabernet Franc, and a soupcon of Cabernet Sauvignon work nicely together to form a wine that is drinkable in youth, but will continue to develop nicely over the next 10 years.($18)
All in that make $65 worth of wine for the three bottles. But for you, this week only:
Just $50 for the trifecta
That's under, ahem, $17/bottle for three pretty darn nice bottles of Bordeaux, including one that could easily sell for $60 (Carlmagnus). I think you'll be delighted with these. Please reply to this email with your request: "Trifecta", or whatever your pleasure. The wines are in the house and ready to roll when we open today!
Or, click the link or photo above to order on-line.
Cheers!
Dan