Ciao Cru,
First, many many thanks. Today's offer culminates a great year in Italian wine for us and you. We went into January working with just three wineries and here we are 9 months later having tripled that. That's a testament to your interest and support of lesser known, hard-to-find gems. Like this one...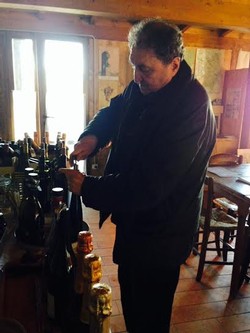 Upon finishing a family lunch with Boni Luigi last month, we were saying our goodbyes in the parking lot when he coyly looked at our kids and said, "Do you know that I eat out a restaurant 13 times a week?" I could see their amused mathematical centers whizzing with a response but before they could reply Boni rejoindered,
"I take Saturday night off."
Boni's a mid-60's-something raconteur that is impossible not to love. About 15 years ago he traded in his career as a manufacturer of high end bathroom fixtures and took over his father's two businesses--a balsamic vinegar-making operation, and a small winery holding. He's not a winemaker, having hired that job out from day one to his consigliere Matteo. He's too busy to make wine!
But what Boni does do is travel all over northern Italy selling his wine right out of the car, pouring at tastings, pressing the flesh at trade shows, and getting know to the best restaurants personally. He sells almost all his wine in Italy and in fact the bottles we buy are among the few that get exported. At his core Boni is a gourmand, and a traveling salesman. And loves his life.
So after a quick tasting on a gorgeous Saturday morning in the hills of Emiglia, Boni asks "Do you want to go to a place with the best Tortellini? I like them better than anywhere else in the region." So off we went over hill and dale and ended up in a sleepy town, at a small restaurant with a bunch of old dudes sitting outside playing cards and drinking espresso. There we were served the most incredible little pasta hats, hand-rolled by a half dozen local grandmas, and served with a heap of good reggiano.
Our 13-year old says it was the best food he's ever had.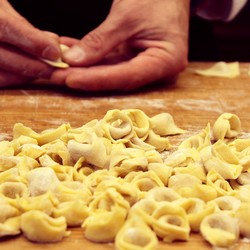 We washed down those feathery light tortellini with Boni's best wine, a bottle he calls Bucamante. It is made from a grape no one knows, not even the wine cognoscenti in nearby Bologna--it's called Malbo Gentile. It strikes me like nothing else. Big and plump like Merlot, peppery and racy like good Syrah, and a little dusty like Cabernet. There's a long history of Malbo Gentile in Emiglia Romagna but it has largely gone out of favor or is used as a blender to beef up Lambrusco.
A friend of Boni's turned up for lunch as we were finishing (he turned out to be the village cheesemaker) and we offered him some wine. He declined until he saw it was Boni's Bucamante 2011. He then became very enthusiastic and savored every swallow as he pounded down about a kilo of those tortellini.
And I hope that's the meal you'll plan in order to enjoy this remarkable wine too.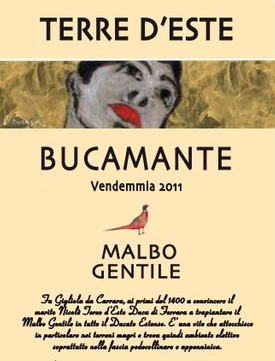 Terre d'Este Bucamante 2011
On pre-arrival just $21
Boni made just two barrels for a total of 600 bottles. It rested there for 6 months then bottled immediately to preserve the fruit. He just began selling it this past Spring and it is simply delicious. I would rank this wine up there with the best of any of the top appellations of Italy--Barbaresco, Chianti Gran Selezione, or Brunello. That it is made in a virtual winemaking no man's land, and in miniscule quantities, means that it doesn't have the sexy value of those others. But it in every way it is a wonderful, elegant, ageworthy, and dynamite bottle of wine.
I don't expect any to see our store shelves. I've been allocated 120 bottles and they're here for the taking right now. At this price, I think a 6-pack buy wouldn't be a bad idea. You'll enjoy the wine right away, after a quick decant, and will be delighted to have some squirreled away for a party in 2028.
To order, please reply with your request, or click the link or photos above to read more about Boni Luigi and order online. I expect Bucamante to arrive with all the rest of the Italian goods around November 1st.
Thanks again for a great year supporting some great, small Italian wineries. More to come in 2018!
Saluti,
Dan