THE APOGEE OF THE MOON
Friends,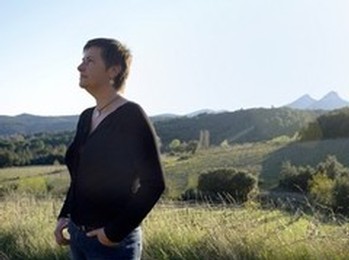 I've talked a lot over the last few years about the wines of Emmanuelle Schoch. Her little winery has become an important cog in our direct import portfolio. There's a little bit of something on every container we import. I think we've bought about 400 cases from her in just 2 years.
There's only one place to buy Emmanuelle's wines outside of France. Right here. In this photo I imagine that she is gazing westward, wondering what all those Oregonians are doing with her wines.
I hear a lot of winemakers talk grandly about "doing things more naturally in the vines" then watch them hop onto a tractor that belches exhaust into the sky. I listen attentively as they talk about hot terms like "permaculture", "organics" and "sustainable farming." Then they tell me they work 50 hectares. And use a machine harvester. And their neighbors use round-up.
And their cover is blown.
But Emmanuelle's vineyards are cloistered, set among oak woodlands into 20-something tiny plots. There's a creek that separates the road from her vines and sometimes in past years the tractor wouldn't even make it through. Now she uses a horse to mitigate those problems.
---
Feeling impetuous? Need a vacation? See how in the P.S...
---
Mas Seren consists of just 6 hectares perched at an altitude of 300 meters near the sleepy town of Monoblet, close to Anduze. A wild site in Cévennes country, it is protected by scrublands and oak forests. The plots, spread over rocky slopes, are made up of red sandstone, shale, grey marl, or even limestone fragments. What a puzzle! Grapes benefit markedly from the contrast in the day and night temperatures during the summer. Thus, the cool nights of Cévennes allow the grapes to ripen slowly while protecting freshness and acidity, which provides its wines with aromatic intensity, finesse and fullness.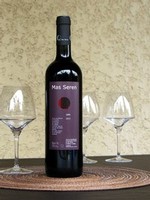 The best wine (price/value) for my money at Mas Seren is called Lilith. For astronomers out there you'll know the name as describing the moon's farthest point from the earth. It's an appropriate name here as I think what Emmanuelle is doing is farther from almost any of our other wineries.
Mas Seren Lilith Rouge IGP Cévennes 2015
On Sale Now for just $18
(regular $24)
5% further off on 6-packs
10% off on solid cases
Lilith is an ample and irresistible wine, blended from Grenache and Cinsault with a splash of Syrah. There are no barrels in the winery. None. (again, now THAT is natural) I liken the wine to an unadulterated, naked, Chateauneuf-du-Pape. Nothing but pure, ripe, succulent, fruit is on display. A dark, purple color and plenty to chew on. Drink now or over the next 5 years. Happily.
No horsing around.
The wine is in the house and ready to go. To order please reply directly to this email with your request "Three", "Sixer", "Twelve"-- or click the link or photo above to read more and order online. Once the snow melts you should swing by and taste some too, as supplies last.
You're in the saddle!
Dan
PS--Looking for something spontaneous because you need a cool getaway later this Spring? I have room for one traveler (or maybe two) to join me and Elizabeth in the Loire at the end of May. Ten days, lots of food, lots of wine, lots of cheese, lots of bakeries, lots of cool other stuff. You might even spot Mick Jagger. Shoot me a note, or click HERE.
PSS-Less impetuous, but still adventurous, I have 2-3 spots available for a tour through the northern mountains of Italy at the end of September. Also ten days, and also filled with cheese, wine, and lots of great food plus a good healthy clean air hike every day. Just reply here for more details...