Pre-Arrival Offer #4 of 2018
Full Circle along the Alsace Wine Route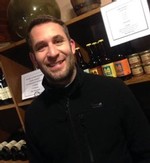 My reference point for dry Gewurztraminer came from the late biodynamic winemaker François Barmes. It was his Herrenweg bottling from 2001 and gave great pleasure to anyone who was lucky to get their lips on some. I've looked and looked for more of that kind of wine to no avail for many years. I guess I'd consider it something of a bucket list challenge for me to find another one.
Then all of the sudden two weeks ago, the pilgramage was complete. And unbelievably, it took me right back to where I started--in the middle of the Herrenweg vineyard.
The young and affable Thomas Baur pointed left and right, reciting a who's who of great domaine names--Jossmeyer here, Zind Humbrecht there, Barmes-Buecher next--and with a smile says, "And we're right here in the middle of them!" We were standing together in one of Alsace's great plateau vineyards, a virtual garden of organic and biodynamic viticulture, and the home of today's wine.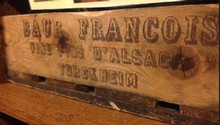 Normally, Gewurztraminer is vinified and bottled with a goodly amount of residual sugar (RS). I like those wines too, but find them a bit more cumbersome to drink throughout a meal. But the dry ones can be simply wonderful. A winemaker won't often accomplish this however, because as alcohol goes up in Gewurzt, a weird sort of bitterness sets into the wine. But in vintages like 2015, Baur profited from a long, slow ripening season that guarded against potential alcohol, while yielding remarkable flavors. Everything clicked.
2015 Vins François Baur Gewurztraminer 'Herrenweg' 2015
Just $19 on pre-arrival
5% off on 6-packs, 10% of on solid cases
I hardly ever buy wine at the winery while I'm visting, but I had to bring a few bottles of this beauty home for Mrs. Cru and we dutifully enjoyed some with a spicy lamb stew. A dry Gewurztraminer gives that sort of flexibility. Sometimes when we first smell a wine we look at each other and laugh out loud--sort of "holy hell that smells sooooo good!" moments. This wine caused us to do that.
Lychee, rose petals, and super ripe pears leap from the glass. There's a sort of stony, chalky vibe in there too. The wine is rich in the mouth (a year in old foudres), and unfolds in layer after layer of tastiness. You'd be happy to have a case of this stuff around to attack throughout the spring and summer.
To order, please simply reply to this email with your request. I have a small allocation of 10 cases arriving around April 15th. Or, click the link above to read more about Thomas Baur and order online.
Cheers!
Dan