When I first began importing wine more than 25 years ago there were three fundamental understandings about the south coast of France.
There was a highway that allowed a fast route from Italy to Spain,

It was where Cannes and St. Tropez are, and

Most of the wines belonged on the bottom shelf at the grocery store.
But a lot has changed over that time in the area known as the Languedoc, a stretch of country that begins at the delta of the Rhone and runs southward to the Pyrenees. For my money, it's awesome. From the old cities of Montpellier and Narbonne, to the majestic hills of the Cevennes, and to the rocky beaches near Perpignan, this region has it all.
In fact, I'd say there's more great winemaking going on there, within an hour inland of the Mediterranean, than just about anywhere else in France. This is a mountains-meets-the-sea kind of place, where one can find fish vendors right next to sausage sellers at the market, and wineries are making more than just plonky rosé or tuity-fruity reds.
Here are 4 women winemakers (and all friends among them) that I think are doing great things. These are some of their top offerings:
Just $75 for the 4-pack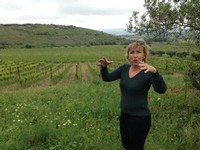 Clos de Nines Le Mour 2016--I was enchanted with Isabelle Mangeart and Clos des Nines from the start. She met me on a Sunday, admitting that normally this is the day she sleeps late, reads the newspaper cover to cover, and drinks a lot of coffee. And I'm glad she did. There are no weaknesses in the Clos des Nines lineup of whites, reds, and pinks. But the standout for us was this delightful bottle calle Le Mour (short for Mourvedre). I loved it immediately for its ripe, dark fruit, chocolatey richness and its youthful exuberance. It gives an undeniable look at a juicy, lively, sunny red wine of this part of France, but also sneaks a peek at something classier and more refined, sort of like Bandol, about an hour away. ($23)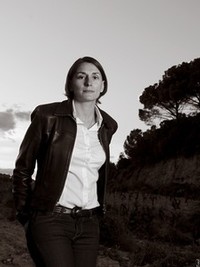 Devoy Martine Lirac 'Circius' 2013--Lirac is an appellation I would call the most southern of the southern Rhone, but technically it is in the Languedoc. As such this is a quite warm, roasted climate that yields wines that are succulent, ripe, and concentrated. The highest point of Veronique Lombardo's domain is planted on sculpted terraces where the roundish pebbles make the soil barely visible. This is where the Grenache variety is planted which gives the wines their structure and the Syrah for its ruby colour and its incomparable red fruity taste. ($27)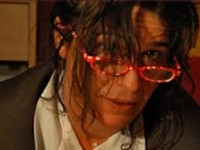 Chateau de Rey Galets Roules 2015--Cathy Sisquelle creates a large range of wines at Chateau de Rey. Red, white, pink, young, older, dry, sweet, bubbly...you name it. She caters to lots of tourists and locals with an inexpensive bag-in-box, but her eyes really light up when tasting and pouring this wine--"Les Galets Roulés"--or to you and me, Rolling Rock. It is powerful, dark, opaque and oh-so Mediterranean. Syrah and century-old Carignane combine to make a wine that is complex, structured, and ageworthy. I'd put this up against any and all comers from Rhone's Chateauneuf-du-Pape or Gigondas. ($32)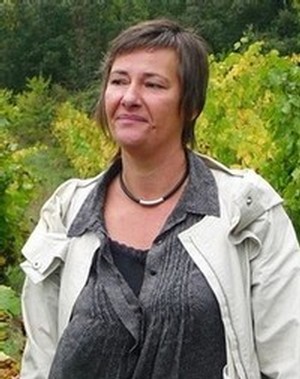 Mas Seren Lilith 2015--About three years ago I met with Emmanuelle Schoch at her home in the Gard near Montpellier. Along with her husband, Löic, we piled into a VW Vanagon and took a magic bus ride to her vineyards in the Cevennes. What followed was an astounding 2 hour vineyard walk, the likes of which I've never experienced. It was like Narnia for wine dorks. With the Lilith, a blend of Cinsault and Grenache, fruit is gravity, holding its feet to the earth. As with all of Emmaneulle's wines, this one has an astronmical meaning--the moon's Lilith is its farthest point from the earth, the apogee of its orbit. But astrologically, I like the interpretation better. The Lilith explores the more hidden and mysterious forms of the feminine archetype--independence, rebelliousness, pride, and strength. ($24)
There you have 'em. Four supeb reds from a region on the rise. I really want to get these wines out there for your consumption. The discount is pretty tasty on this one, but that's okay to get you (re)introduced to some of these great bottles.
Want some? Please simply reply here with your request: "4-pack", "Mixed Case"--you name it. The wines are in the store and ready to go when we open tomorrow at 11am. Or, you can simply click on the link above to order online.
Cheers!
Dan