YOUR NEW RHONE HOUSE RED.
ON PRE-ARRIVAL UNDER $11 BEST PRICE.
Bonjour Friends,
Sometimes I have to stop what I'm doing and send you a note 'real time.' I only do this when I get totally wowed by a visit to a winery, or something just jumps out me and says, "Buy as much of this as you can."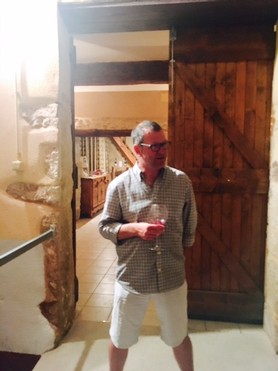 The stars aligned like this yesterday while we visited in the cool cellars of Domaine de Panisse with Christine and Jean-Marie Olivier. It was 96 degrees oustide but in the tasting room we, um, "warmed" ourselves with their inky, black cherry bomb of a Côtes-du-Rhône that you'll be happy to have laying around this winter for any, and no, reason at all.
Plus, while she was tasting it, Mrs. Cru nudged me in the ribs and her eyes got all wide. It just confirmed for me that we had a winner on our hands...
Domaine de Panisse Côtes-du-Rhône 'Murmures des Vignes' 2016, $12
5% less on 6-packs, 10% off on solid cases
Here's the deal: There is literally an ocean of Côtes-du-Rhône on the market. Lots of it is commercialed, commoditzed junk wine. These are 'gas station' bottles, barely qualifying as a fermented beverage, and come from nameless, faceless vineyards and turned into boring garbage.
But sometimes you meet a winery that does things the right way--farms for low yields, treats their vineyards respectfully and organically, and turns out products on a small scale (in this case, only about 10,000 bottles) that ironically bear the same place name as million case brands. These are the people we're rooting for.
In many ways its unfair, but for us and you, I'm damn glad they exisit. These small wineries compete only because small businesses like ours pay a visit once a year and get intensely interested in what they're doing. The big importers and distributors just can't make it work the same way. They need case quantities to keep grocery store shelves full. We don't. We just need people that make great wine as often as they can. And we need consumers that are equally interested.
A case of Christine and Jean-Marie's delicious little Côtes-du-Rhône will end up in our house for sure. How about yours?
I'm ordering as much as I can and it will all arrive around mid-October. There won't be many further "value deals" like this that I'll offer for the fall. I hope you'll grab "Six" or a "Case" to stock your larder. To order, please reply to this email or click the link or image above to read more about Domaine de Panisse and order on-line.
Cheers!
Dan