Hey //FirstName//,
Let's keep this one on the lowdown shall we?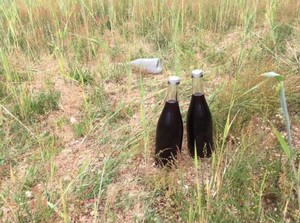 As summer approaches I've got a few cases of this and that that I'd like to move in order to make way for new inventory arriving later this summer. So I thought to myself, "Self, why not offer some of those tasty wines to a few folks that might appreciate a good deal."
So after I made a short list, I looked at it and thought, why not just turn this into a 6-pack? It's a really great mix of summery, ready-to-drink red wines. So I did.
I have enough for just a few dozen of these, hence this note to you and only a handful of other folks. Need a little stock up prior to July 4th? Want some reds that you might be able to slurp a little cool as the weather warms up? Just want a good deal? Well here you go....
Summer Reds 6-pack
just $78, or $150 for a "double down" mixed case
at 25% off regular prices
You'll get one each of the following wines--a mix from Itlay, France, and Spain:
Corzano e Paterno Chianti (Italy, Tuscany)-among my favorite wineries to work with in all of Italy. They grow olives, they make cheese, and oh yeah, the grow Sangiovese and make some darn delicious Chianti too. Red-fruited, not too tannic, and sneakily explosive. ($19)
Puits de Compostelle Pinot Noir (France, Burgundy)-a house favorite of ours when we're thirsty for a lively, crunchy, pure-fruited Pinot, made only in older barrels and unusually complex for this part of Burgundy. One of my favorite hidden treasures in our portfolio. ($19)
Roquemale Meli-Melo (France, Languedoc)--there's a funny reason for including this one. I'm actually not allowed to import and sell this one anymore because some other winery owns the trademark in the US. Oh well, it was a good run while it lasted. Pure Alicante Bouschet and a little smiley face on every cork, the same look that will be in your face when you drink this one nice and cool with some sliced sausages and a good baguette. ($14)
Bainbridge & Cathcart Rouge aux Levres France, Loire)--Toby Bainbridge hates the term "natural wine". He prefers the monniker "pragmatic wine" instead. Toby cares about people, not products, and a few weeks ago we drank this wine with a dozen Cru faithful on a folding picnic table in the middle of his future vineyard (pictured, above). Everything about the moment was great--including the wine. Juicy, lip-smacking and delicious while it flows direclty from the clear glass bottle. ($19)
Mas Bella Negre (Spain, Catalonia)--No one knows about Tarragona in the wine world. It is overshadowed by neighboring Montsant and Priorat, but the wine here (Tempranillo, but locally called Ull de Llebre), is smoky, dark-fruited, and complex. It's really truly a great bottle of red for the price. Call me back if you want more after your first bottle. ($14)
Tave Cotes-du-Rhone Vinsobres 'Sensation' (France, Rhone)--from my favorite solo vigneronne, Audrey Latard. I just don't understand why she isn't more well known. Her wines are on point, she has great vineyards, and she features a fine minuscule production. This Grenache/Syrah blend is a "baby" Gigondas or Chateauneuf in every way, except the price tag. ($17)
Interested? Just reply here with your request: "Sixer" or "Mixed Case"--whatever your pleasure. (sorry, no webpage on this one) Regular price is $102 for these six nice wines so you're looking at a sweet 1/4 off. The wines will be picked and ready to go by the time we open tomorrow, Thursday 6/7 at 11.
Cheers!
Dan