Hi Friends,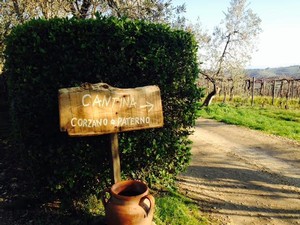 We're gonna have fun here in December, starting right now:
Dan and I will be pouring the following lineup tomorrow, Friday 12/2 from 4-7pm. Three Italian wines and a nice spread of salumi from Tails & Trotters to go along. Check out this lineup:
Corzano e Paterno Il Corzanello Rosso 2014, $14 (baby Chianti)
Corzano e Paterno Chianti Riserva 'Tre Borri' 2013, $39 (poured from Magnum!)
Il Ritorno Lambrusco 2015, $19 (because why not!)
And maybe another surprise...
Tasting is FREE! Come one, come all.
---
Keep your calendars marked for our big holiday weekend tasting, December 10th and 11th, from 11am-6pm. (Yep, open all day on a SUNDAY!) A heckuva lineup of sparkling wines plus Two Tarts cookies on hand! Did you order your Two Tarts cookbook yet? It will be ready to pickup on these dates. Mrs. Tart-Cru will be on hand for autographs and chocolate fingerprints to smudge into your book.
---
PURE Red Wines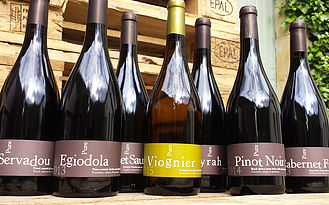 Wenny and Gabriel Tari produce a range of wines that have taken life form here. If you haven't tried any of the yummy bottles out of their portfolio, here's a way.
Each year Gabriel separates a handful of plots to bottle single grape varieties in this PURE range. Its quite a lineup really. There are cool climate varieties from one parcel (Pinot Noir), and more hearty southwestern varieties from warmer sections of his vineyard.
We have the following three red wines, in just small quantities, as a "teaser" 3-pack:
PURE Pinot Noir 2014, $16--A fan favorite from our most recently quarterly 6-pack. Look, it won't make you forget about great red Burgundy, but it will give you a juicy, lively, high-toned Pinot, with a nice refreshing-ness that can't be beat
PURE Egiodola 2013, $18--A new grape variety to me, created in the 40's by hybriding the local Fer Servadou with the dark and stormy Arboriou. In local dialect Egio=Pure, Dola=Blood. 'Nuf said.
PURE Fer Servadou 2014, $16--A perfectly wonderful example of southwest French wine. At once kind of wild and crazy, and at the same time, pretty, refined, and elegant. We love the dark currant aromas on this one.
Okay, ready to cut to the chase?
One bottle of each to make a nice 3-pack: Just $39
Two bottles of each to make a 'Sixer': $75
These are pretty darn interesting and tasty wines at the regular prices, but at $12-13/bottle they're all the more delicious! We direct imported all these wines from the front door at Chateau de Brau to the front door at Cru. The wines are in perfect winery condition and tasting terrrific.
To order, please simply reply to this email with your request--"3-Pack", or "Sixer". The wines are in house and ready to go, like, right now!
See you soon.
Cheers!
Jane Averin