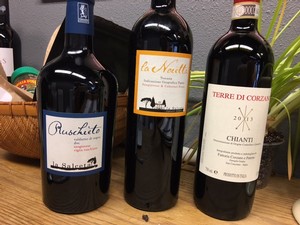 Hello friends- We are very excited to bring you a trifecta of our newly landed Italian wine gems.
This week's tasting honors two favorite estates in the Corkscru direct import repertoire: La Salceta and Fattoria Corzano e Paterno of Tuscany and specifically, the area around Chianti DOC. These esteemed producers are stewards of tradition and of the land on which they work. They are modern in technique and production while also organic and inclusive of biodiversity- the latter has a small herd of Sardinian sheep that supply the fertilizer for vines and the milk to make their estate Pecorino.
Most importantly these producers work hard to bring you beautiful wines- full of life. They will make you change your mind about Chianti with their representations of earth, ripe fruit, and intention.
Please join us FRIDAY, APRIL 7th from 4-6 PM to gather around our table to sample these nice Sangiovese wines and explore with us. (Tasting is FREE. Come one, come all) Can't be here in person? Click the links or photo above to read more about these nice wines and order some on-line for yourself!
Looking forward to seeing you.
Amalie