Bonjour à Tous,
We are in Paris. Our trip began like this: 1) a quick stop at Pierre Marcolini for chocolate, 2) a pilgrimage to Barthélemy, our favorite cheese shop on the Rue de Grenelle, and then 3) acroos the street to the La Cave de Joël Robuchon for a bottle of something tasty.
(side note: Why are we here? Well, stay tuned to this newsletter in the coming weeks for the story to unfold. First off, we were in Paris for our son to compete in the Rubik's World Championships. It was cool, man. And if you've never seen a cube get solved in 5 seconds, you should google it!)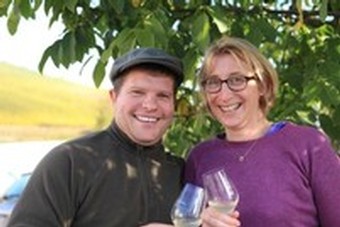 The bottle of something tasty turned out to be Sancerre, the pink variety, and one of our true summer favorites. We enjoyed it with the above-mentioned treats on the deck of a houseboat parked on the Seine in the south of Paris. Tant pis!
After WWII, Sancerre relied on the Seine to transport its wines to thirsty Parisians, kicking off the industrial revolution and rebuilding lives after 30 years of conflict. A museum in Sancerre chronicles all this and is worth a visit. The Sancerrois were true wine-marketers, putting on amusement fairs and driving around Paris in their brand-emblazoned delivery trucks. Sancerre owes its popularity today to this early promotional success.
The tradition continues when young winemakers like Pierre Martin head to Paris for a wine fair or trade show, or just to make a simple delivery. Pierre makes an impression. Another winemaker who is friendly with Pierre regaled me with a tale I'll not soon forget. A group of 10 winemakers were in Paris for a professional tasting and chose to end their day at a nearby restaurant. Instead of simply strolling there in the cool evening air, Pierre made everyone do "leapfrog" the entire two blocks!
They arrived happy, hungry, and energized.
For me, this is the essence of Sancerre in the glass too--lively, electric, smile-inducing, and oh-so satisfying. This goes for any Sancerre, no matter its shape, size, age, or color. That's right--Sancerre comes in red, white and rose. And Pierre's are a reference point for each.
Pierre Martin Sancerre Chavignol Blanc 2016 is just downright delicious. Everything I love in an entry level Sancerre--concentrated grapefruit rind, an explosion of lemongrass and Asian spices, and a rich, long finish. Elizabeth begs me to bring this home. $27
Pierre Martin Sancerre Chavignol Rose 2016 is a pale salmon-y color, with loads of racy acidity and sneaky complexity. Pierre only made 9000 bottles. It is quite simply a perfect summertime pink. This is the second purchase we've made of this wine, the first having disappeared before arrival. $25
Pierre Martin Sancerre Chavignol Rouge 2015 might be the most exciting Pinot Noir I've tasted this year. To hear Pierre say it, there are only about a dozen wineries in all of Sancerre that should be making a bottled red wine, and of course, humbly, his is one. We agree. A ripe vintage like 2015 really provided a magnficent bottle that will age beautifully for 10 years. $29
That's $81 all in for three bottles of magnificent wine.
But for you, on pre-arrival...
Just $59 for the 3-pack
I expect the wines to arrive around August 15th, perfect for late summer sipping with almost anything you can conjure up. There are only 36 three-packs available. Sorry. Pierre's wines are well known in France and thirsty Sancerre lovers are quaffing them down with regularity. I'll try to get more for next year!
To order, please simply reply to this email: "Three Pack", "Sixer", or even "mixed case" if you really want to load up. I'll take orders first-come, first-served. You can also read my little essay on Sancerre by clicking here and ordering on-line.
Talk to you again in a few days from Alsace. Any Riesling fans out there?
Cheers!
Dan