Bonjour à Tous,
There is an imaginary thin white line in France, somewhat on the surface, but mostly underground. It stretches from Champagne, near Reims, southward toward Chablis, and finally ends here, in Sancerre.
What am I talking about? It's those little tiny rocks, baby. The calcaire and cailloux, the chalky white, marine sediment, marl and kimmeridgian, limestone-y earth and soil that makes the aforementioned wines what they are--quivering, mineralic, lively, refreshing, and oh-so magical. Really. I hardly ever meet anyone that says "eh, non" when offering them a glass of Champagne, Chablis, or Sancerre.
It's no accident that these are among the most beloved wines in France.
They are wines that can't be replicated anywhere else. Some may try, but it just can't be done. And never will be.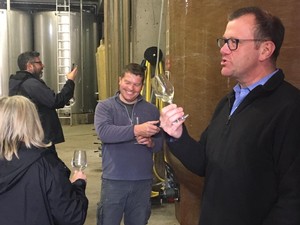 Our group visited with the affable, always smiling Pierre Martin yesterday. It was still a little unseasonably cold but we dutifully trudged up to his vineyard for a splendid view across the village of Chavignol. We mentioned to Pierre that his was the last stop for our group after 10 days in the Loire. He considered for a second and then replied, "Well, you saved the best for last!"
Pierre's not very modest, not usually anyway, and he laughed and joked easily with us all the while winking at me now and then and saying, "I think you need to order more wine!" Yeah, okay. So I did.
Pierre makes three white wines and they are all simply magnificient. I want you to try them all so thought I'd wrap 'em up into a nifty little 3-pack. Here they are:
Pierre Martin Sancerre Chavignol 2015 is just downright delicious. Everything I love in an entry level Sancerre--concentrated grapefruit rind, an explosion of lemongrass and Asian spices, and a rich, long finish. Elizabeth really loves this wine. $25
Pierre Martin Sancerre Culs de Beaujeu 2015 comes from a 1 hectare plot toward the west of the village that is surrounded by oak and acacia trees. A splash of old oak barrels seem to lend a fatty richness to this wine but in the end it is Sancerre through and through with bracing, lipsmacking, almost salty minerality. $34
Pierre Martin Sancerre Monts Damnés 2014 is my favorite of Pierre's wines, but also the most precious. He can only allocate me a few cases from his 2000 bottles produced. It is simply a wonderful wine with layer upon layer of rich, lemon balm wonderful-ness. Drink it now or celebrate with it 10 years from now. Full stop perhaps the best bottle of this trip. $37
That's $96 all in for three bottles of magnificent wine.
But for you, on pre-arrival...
Just $75 for the 3-pack
I expect the wines to arrive around June 15th, wonderful bottles to have around for summer sipping with almost anything you can conjure up. But here's the rub: There are only 48 3-packs available. Sorry. Pierre's wines are well known in France and thirsty Sancerre lovers are quaffing them down with regularity. I'll try to get more for next year!
To order, please simply reply to this email: "Three Pack", "Sixer", or even "mixed case" if you really want to load up. I'll take orders first come, first served. You can also read my little essay on Sancerre by clicking here and ordering on-line.
Talk to you again in a few days from the heart of Beaujolais...
Cheers!
Dan