Hola Cru,
Before I get into today's offer I want to talk about something important. A wine PSA if you will. It is the essence of what enjoying wine boils down to.
Let's call it: The X Factor.
I'm reminded of a Sesame Street skit in which Bert is alerted to the sound of someone playing the tuba in a public park, and discovers Simon the Soundman performing "Umpah in the Park with Ned", but without an instrument. Simon is only using his mouth to make the perfectly in-tune sound of the tuba and Bert insists to know how he's doing it. The man tries to teach Bert, but Bert cannot succeed and ensues in making woefully horrible noises with his mouth. Eventually Simon gives up and walks away while saying, "Look, some people have it and some people don't. You, obviously don't."
The scene makes me think of the enjoyment of a good bottle of wine. If we put a glass to our lips, gain an immediate sense of gratification and wonder, and wish to taste some more, isn't that enough?
I wonder if we get wrapped up in the technical side of wine a little too much sometimes. I see this with folks trying to find their own way of appreciating a glass of wine. Does it really matter the clone type, the vineyard elevation, the total acidity, or the vine age? Sure, from a technical or professional perspective, and across a broad data set, those things can be sort of interesting. But does that knowledge lead to enjoyment?
I don't think so.
In Bert's case wouldn't it have been cool if he had simply stopped and said, "Wow, you're amazing! I just want to sit here and listen to you do that all day!"? Or, "Who are you? I must know more!!"
So look, if you want technical credibility in the wine biz, go for it. Take winemaking classes, read professional books, and learn to your heart's content. Behind the scenes, wine is scientific, technocratic, nerdy, and data-driven.
But if you want wine "street cred", think of Bert, and think of Simon the Soundman in the park playing the imaginary tuba. You don't have to wonder how it's done. You just have to sit back, pour yourself a glass, and enjoy yourself.
Then, I think you'll discover wine's X Factor.
Sao del Coster Albariño 'X' 2015, $19.50/regular
On Pre-arrival: $14/bottle
Six packs or more: $13/bottle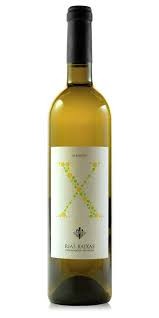 Okay, I didn't come here to day to throw Sesame Street under the bus. I came instead to talk about a wine with a literal X Factor, the one and only happy-making white that comes from the cellar of Xavy Beccara and Michelle Negron Gonzales at Sao del Coster. I've had a visit with them on my mind, and soon their wine will be in our warehouse and then, onto your fridge.
Xavy and Michelle make Priorat in Catalonia, not far from Barcelona. But, they also own a small plot of vines about 1000km away in northwest Spain in Galicia. Following a tasting of their powerful reds last fall we then retired to their sunny patio to drink this smile-inducing white, with its sea-air kiss on the lips, and oh-so limpid refreshing-ness.
Michelle was a professional translator, and Xavy was an AP reporter and they met on Skype while she gave him English lessons. But wine drew them together, and now, for me at least, they have discovered their X Factor.
Some wineries have it, and some wineries don't. Xavy and Michelle, obviously, have it.
The sun may finally be making a more permanent appearance here and this is the wine that's ready for those days to arrive. The shipment is "on the water" and I expect in our store around June 1st--just a few more weeks away! To order please simply reply to this email with your request: "Three", "Sixer", "Case"--whatever your pleasure.
Or click the photo or link above to read more about the wine and order on-line.
Cheers!
Dan
PS--Italian wines arriving next week, I hope. Fingers crossed...