Il y avait une étincelle dans ses yeux.
There was a sparkle in her eye.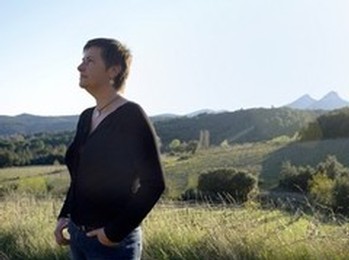 Today, I want to wind back the clock two and a half years. At about that time Road Cru reached an agreement with our first French winemaker. We were new and, basically, so was she. Her winery was just a few years old, and she had only sold her wine within her village, and to a few interested restaurants in the region.
And now here we are, all of us together, with our number one winery (in bottles imported and sold), and our number one advocate in France.
I remember that warm April day in 2015 when I sat at Emmanuelle Schoch's kitchen table and explained my idea for Road Cru to her. I think we both realized pretty quickly that it was the kind of plan that had some risk, but that could benefit us both. So we went for it. She trusted an unknown importer, and I trusted an unknown winemaker. Together our businesses have grown and today our plan is in full effect.
She's making wine for the people. And I'm delivering it home to you.
Mrs. Cru has one word for Emmanuelle's wines--Delicious. (well, there might an adverb sometimes mixed in there too). Her vineyards in the Cevennes, near Anduze in the Languedoc, are farmed with meticulous care and attention. If one wanted a peaceful place to go meditate, with only the sounds of the birds above and the critters below, this would be it.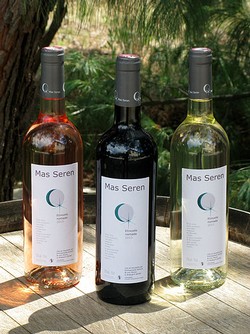 This brilliant vigneronne crafts a red and white (and a pink that is sold out for this year) for everyday called, you guessed it, Etincelle. (A spark, a sparkle, a sparklet) At their price, there is simply nothing better, or more, ahem, delicious. Like all of her wines, Emmanuelle makes these entirely in tank, no oak to mess things up, and imagines them getting consumed within the first 2 years of vintage.
Mas Seren Etincelle Rouge and Blanc 2016
On pre-arrival, Just $12
5% off on mixed Sixers
10% off mixed Cases
Etincelle Rouge blends Syrah with the local Cinsault. A wine that conjures the Rhone but that I find more soft, silky, fruit-forward and slurpable. Drunk a little cool is my favorite way.
Etincelle Blanc is a curious blend of Vermentino (locally called Rolle) and the aromatic Viognier. This is the bottle that should be lined up in your fridge, ready to pour as an apero, or to wash down those holiday turkey enchiladas.
I encourage you to mix and match on this one. To order please respond with your request something like this: "Sixer, 4 red, 2 white" or "6 of each" or whatever your pleasure. Or click the links above to order online.
I expect the wines to arrive in early December. I hope you'll enjoy a few of these in the months that follow...
Cheers!
Dan