PRE-ARRIVAL OFFER
Hello Lovers,
I've found a better way to buy Bordeaux. The best wines from the region are made in almost homeopathic quantities. Those tiny wineries and their minuscule productions generally sell their entire bottling to the big Bordeaux marketplace merchants, wipe their hands, and run to the bank.
That same Bordeaux marketing machine sucks up all the well-known brands, then sells them off as a package to huge importers and distributors. At the end of the day, all that's left are the dregs. Mass-produced industrial junk that is, frankly, not interesting.
For a micro-importer like us, it's impossible to do business this way. First, we're not big enough to buy full containers (1100 cases) a year ahead of time, and second, the big brands are everywhere. Who wants to play that game?
Then, two years ago, I met Melanie Bonville and my outlook changed. Melanie also felt that many Bordeaux properties, while enamored with the idea of one invoice and one payment for their entire production, were missing out on something. Actually knowing who their end customer was. For her, the system was unsustainable.
So Melanie started working with about 20 tiny, high-end Bordeaux producers in great appellations--St. Emilion, Pomerol, and beyond. These are small families that wanted to know more about their importers, and wanted to start relationships that mattered. She organized a tasting for me at a Libourne wine bar and let the wines do the talking.
And they did.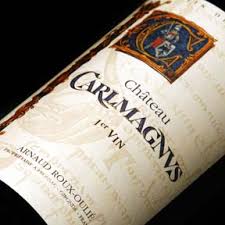 Thirty sample bottles later, we vowed to get the ball rolling. I chose three properties to start - each a stunning example of the region. Here they are, packaged together in a Valentine Bordeaux Trifecta--a truly wonderful and meaningful mix of small production Bordeaux:
Chateau Fleur d'Eymerits, Lalande de Pomerol 2014--Vincent Lagrave began his project in 2002 and bottled his first wine in 2009. He co-ferments Merlot, Cabernet Sauvignon and Petit Verdot, the latter giving a black, brambly, powerful quality to the finished wine. This is a pretty darn brawny wine folks--something of a teeth stainer. I like the wine now, while youthful, but a quick decant really will benefit it. Again for 5-7 more years will be a nice bonus. ($25)
Chateau Carlmagnus, Fronsac 2012--Here's the Merlot that would have made that dude in Sideways shut the hell up. This crown jewel of Arnaud Roux-Oulié is a gem of just 6 hectares, pure Merlot, grown on the upper terrace surrounding the tiny village of St. Michel-de-Fronsac. While Arnaud's 2011 was a bit over the top for my taste, this 2012 is plump, plummy, generous and complex. A wine to cellar for 10 more years if you like. ($32)
Chateau La Vielle Tour la Rose, Grand Cru St. Emilion 2011--This is a perfect example of what I've described above. A Grand Cru St. Emilion that, when distributed through the Bordeaux marketplace, would undoubtedly run $50. But we've scored Daniel and Sandrine Ybert's flat-out awesome 2011 for barely half that. Merlot, Cabernet Franc, and Sauvignon work beautifully together here, with just a splash of new oak. Man, I would just love to sneak this wine into a tasting of big St. Emilion names to see how it fares. ($29)
All in that make $86 worth of wine for the three bottles. But, on pre-arrival just:
$59 for the trifecta
That's under, ahem, $20/bottle for three pretty darn nice bottles of Bordeaux. I think you'll be delighted with these. Please reply to this email with your request: "Three", "Sixer", or "Mixed Case". I expect the wines to arrive by about March 15th or so--easy to imagine enjoying a few before winter departs!
Or, click the link or phots above if you prefer to order on-line.
Cheers!
Dan