Thanksgiving Survival Kit 6.0
Yesterday I noticed this really helpful magazine headline:
"For a Perfect Thanksgiving look to Reds, Whites, and Sparkling Wines"
Gee. Thanks for narrowing it down for us.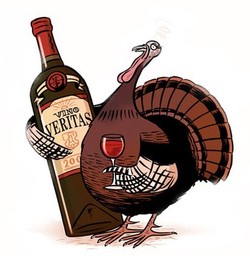 A few years ago, on a whim, we sent an offer for something called a Thanksgiving Survival Kit. It turned out to be one of our most popular 6-packs of the year. Something about the seemingly disparate mix of wines resonated with folks. For us, that's what Thanksgiving is all about! I mean, there's no one perfect bottle to go with a meal featuring 8-19 different dishes, right? Dang it. Maybe that headline isn't so bad.
At some time or another, nearly every single variety of wine has been offered by journalistic types as the "perfect" wine for the holiday table. Our selection focuses on wines meant to keep EVERYONE in the family happy, including you.
The Sparkler (in Pink)
For five straight years, we've featured a dry, sparkling, rosé at the top of this lineup. This year's comes to you courtesy of sisters Nancy and Alex Gontier at Domaine de la Camarette. Elizabeth and I recently visited them and raved over this bottle at dinner. They sell nearly every bottle out of the tasting room. But the next morning Elizabeth managed to wrestle some bottles away, and here it is! A lively, refreshing pink that makes a terrific aperitif for dinner guests. Bulles de la Camarette, NV $22

The Perfect White
X marks the spot. And this year I want to take you to Galicia, the far northwest of Spain and show off a new house favorite white from Sao del Coster--a pure, lively, yet wonderfully rich and complex Albariño. The seaside location gives this wine a little saltiness on the lips. This wine is quivering with bright acidity, making it just the glass to wash down that oyster stuffing! Sao del Coster Alabariño X 2015, $18

Spain on the Brain
There are very few true wine bargains left in Europe today. But Montsant is one of a handful that is still under-appreciated and not fully exploited. Ramon Almazora farms just one hectare to a combination of Grenache, Cabernet Sauvignon, and Syrah. He picks it all on the same day and co-ferments it all together to make just one wine. For my money, it is the perfect red for that dark meat. It's got a little bottle age too. Corbaterra Montsant 2011, $24

The Really Really Pretty
There is a new term roiling around in the wine biz called "naked wines." This could have lots of connotations, but the main idea is that a wine shouldn't have lots of tricks up its sleeve in order to become drinkable. Grow good grapes, be minimalist in the winery, and bottle it to drink with impunity. In other words, stick to the basics. Toby Bainbridge does this to a tee, then completes the task by bottling in clear glass topped off with a screwcap. You might think of this wine as "barely dressed." His pure Grolleau from the Loire Valley is dangerous when drunk a little cool. He playfully named it "lipstick." Bainbridge & Cathcart Rouge aux Levres 2016, $19

Under the Tuscan Sun
No way we're going to do this six-pack without an Italian wine. And the one that has really knocked us out this year is Chianti. Change is afoot in this region, generally speaking. Winemakers like Aljoscha Goldschmidt are making wines that taste like something other than whiskey barrel and wet leather. His Chianti almost strikes me as Pinot Noir on steroids (in a good way). You'll know it's Italian, but you'll also know you're drinking something really unique. Corzano e Paterno Chianti 2014, $19

To Infinity, and Beyond!
We finish back in the south of France, in a small hamlet deep in the Cevennes, where Emmanuelle Schoch continues her march toward greatness. Her wines are all named after astronomical terms, I think because stargazing speaks to her visions for the future of her winery. With this Syrah/Cinsault blend, she accomplishes something magical--a rich, profound red that has never seen the inside of a barrel. The texture of this wine is worth the trip on its own--a fondant of red fruit and chocolate. Wanna serve it with your sweet potatoes? Why not? Mas Seren Lilith 2015, $24
One bottle of each for just $96
(at a regular price of $126, by my math)

Or, you can DOUBLE DOWN and get 2 bottles of each wine for just $180
That's better than 20% off the regular price and at $15/bottle some super delicious, holiday table-ready wine. To order one or more of these nice deals, simply reply to this email with your request--"6-pack" or "Double Down".
Want to order online? Here you GO!
Wines are ready to go starting at noon today, 11/14, and available all the way through Thanksgiving Eve. We hope you'll try them out. Plus, we'll have bottles open for tasting throughout the week and weekend when you stop by to grab your loot.

Gobble Gobble!
Amalie, Yamile, Dan and Elizabeth